Last Updated On 15 May,2017 05:57 pm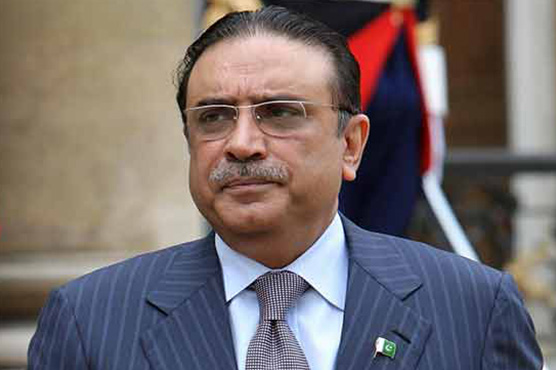 'Show' run by PTI chief and the premier is 'over', claims Zardari
PESHAWAR (Dunya News) – Former president and co-chairman of Pakistan People's Party (PPP), Asif Ali Zardari has taken a jibe on Monday on Prime Minister (PM) Nawaz Sharif by saying that the "Mughal emperor" is of the wrong opinion that he would continue to rule.
He addressed a gathering of tribal elders who had convened a meeting under the banner, Grand FATA Jirga in the metropolis of Khyber Pakhtunkhwa (KP). In his speech he said that the rulers would face tough times if the people are facing the same.
Zardari asserted that 'show' run by Chairman of Pakistan Tehreek-e-Insaf (PTI), Imran Khan and Pakistan Muslim League-Nawaz (PML-N), Nawaz Sharif is 'over'. He said that PPP cannot witness people of Federally Administered Tribal Areas (FATA) enslaved by a governor.
The former president held electing four privileged ministers from FATA in 2008, a mistake and vowed that people s representatives would now be elected.
Earlier Zardari addressed a ceremony in Peshawar on Sunday and said that the rulers have a misunderstanding that they would be able to form the government once again in Punjab.
He said that this time around, the rulers would not be able to steal the mandate through rigging in elections. He accused the federal government of benefitting Islamabad more by saying that China-Pakistan Economic Corridor (CPEC) has 'deviated' from the provinces.