Last Updated On 09 May,2017 10:39 pm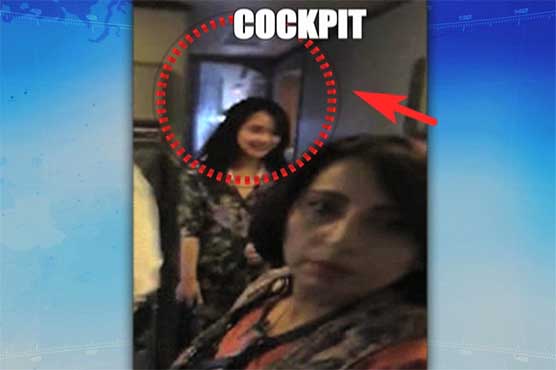 Statements of all the crew would be recorded after landing: spokesperson
LAHORE (Dunya News) – Captain of a Beijing-bound flight of Pakistan International Airline (PIA) that took off from Tokyo let a foreign woman in the cockpit violating the flight code.
Flight PK-853 witnessed violation of the international aviation code as captain Shehzad Aziz gave 'an exclusive tour of the cockpit' to the Chinese passenger after asking all the crew to exit the cockpit.
---
A mobile phone video of the incident was recorded :
---
Spokesperson for the national airline, Danyal Gilani has said that statements of all the crew would be recorded after landing in Chinese capital.
Civil Aviation Authority (CAA) has vowed to investigate the incident and according to an official of PIA, the captain could lose his job if the probe finds him guilty of violating the code.
Last week, a PIA pilot was reported to have fallen asleep with 305 passengers onboard, leaving the control to subordinate.
The flight was enroute London from Islamabad.
On January 20, crew of a PIA flight PK-743 had at least seven passengers travel to Madina while standing in the aisle owing to excess number of passengers onboard.
---
Know more: Seven PIA passengers made to stand up on flight to Madina
---
The flight had departed from Allama Iqbal International Airport and all seven persons stood the entire four-hour journey standing in the aisle which was a serious security breach.
The pilot and stewardess were reportedly served notices by the aviation authorities in Pakistan.
Separately, in March this year, the authorities had to return an aircraft to Sri Lanka purchased on lease for Islamabad-London service as the seat and load plan could not work out.
PIA had paid $19 million over a span of six months for the Airbus-330.
The national carrier that has been operating in losses for years has had several condemnable incidents reported in the past. Chief Executive Officer of the airline Bernd Hildenbrand was earlier put on Exit Control List (ECL) for alleged corruption.
The travel ban was lifted earlier this month for a period of thirty days. Minister for the Interior, Chaudhry Nisar Ali Khan had said in a press conference that a private airline purchased Airbus-330 with a flying cost of $4,000 per hour whereas PIA purchased the same at a rate of $8,000 per hour.
This is not the first time that Hildenbrand was slapped with a ban as in December 2016 he was added to the ECL for allegedly selling a flight-worthy plane to a German museum at a cheaper rate.