Last Updated On 04 May,2017 03:37 pm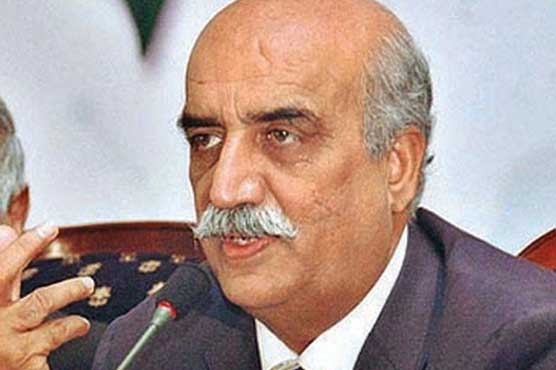 Khursheed Shah will address the rally at Nasir Bagh in Lahore.
LAHORE (Dunya News) – Opposition Leader in National Assembly (NA) Khursheed Shah on Thursday has said that Prime Minister (PM) Nawaz Sharif is busy in derailing the system.
Talking to media outside Allama Yousaf Awan's residence, Khursheed Shah said that Interior Minister Chaudhry Nisar has taken revenge of tweet in Dawn leaks case.

On the other hand, Pakistan Peoples Party (PPP) is going to protest against loadshedding with handheld fans in Lahore's Nasir Bagh. PPP has completed the preparations for its camp in Nasir Bagh, and will demand the government to fulfill its promise and provide electricity.

Convoys from different districts of Punjab including Lahore will join the protest. PPP Punjab president Qamar Zaman Kaira has said if government tries to stop the attendants, it will face the consequences then.
Syed Khursheed Shah, Qamar Zaman Kaira, Leader of the Opposition in the Senate Aitzaz Ahsan, Manzoor Wattoo and others will address the camp.

As per sources, the agenda of PPP leaders will be to criticize the policies of government, particularly unannounced loadshedding. Resignation from Prime Minister (PM) Nawaz Sharif will also be demanded in order to ensure transparent investigation of Panama papers case.