India threatens to respond to Pakistan 'at time and place of own choosing'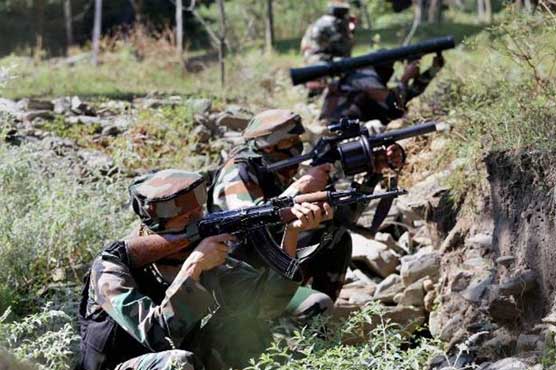 "I do not want to say what we will do," Indian Vice Chief of Army Staff Sarath Chand said.
NEW DELHI (Web Desk) – Continuing anti-Pakistan propaganda despite Pak Army's clarification, Indian Vice Chief of Army Staff Sarath Chand on Wednesday threatened that 'Pakistan will have to face the consequences and the army will respond at a time and place of its choosing,' Hindustan Times reported.
Earlier this week, the Indian army had accused that Pakistani forces fired rockets and mortar bombs at two Indian posts across the LoC and mutilated the bodies of two soldiers. The claim was strongly refuted by Pakistan Army on Tuesday.
"I do not want to say what we will do. Instead of speaking, we will focus on our action at a time and place of our choosing," Sarath Chand told reporters while replying to questions on possible retaliation by the Indian Army.
During a routing weekly hotline contact with his Indian counterpart on Tuesday, Pakistan Director General Military Operations (DGMO) rejected baseless and unfounded Indian allegations of mutilation of Indian Army Soldier's bodies by Pakistan Army.
He reiterated that neither Cease Fire Violations (CFV) occurred in the alleged sector nor crossing of LoC by Pakistani troops has taken place.
DGMO Pakistan Army highlighted that Pakistan Army is a professional military outfit and upholds the highest standards of conduct. Allegations of mutilation are an Indian attempt to divert the attention of world from situation within the valley.
He asked for actionable evidence and urged that Indian Army should look inwards to probe the incidence and also cautioned his Indian counterpart that Pakistan is fully committed to maintain peace and tranquility along the LoC, however, any misadventure shall be appropriately responded at a place and time of own choosing