Last Updated On 28 April,2017 03:26 pm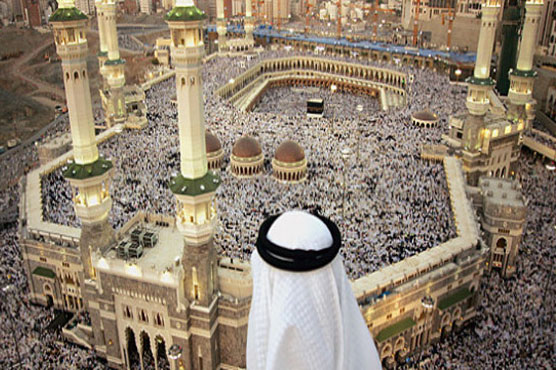 The balloting will be held after Friday prayers.
ISLAMABAD (Dunya News) - Computerized balloting for successful candidates under government Hajj scheme 2017 will be held in Islamabad today (Friday).
Minister for Religious Affairs Sardar Muhammad Yousaf will preside over the balloting ceremony. At least 1,07,526 people will perform Hajj in the ongoing year under the government scheme for which approximately 3,38,682 applications have been submitted to the ministry whereas more than 71000 throught private tour operators.
The balloting will be held after Friday prayers. The successful applicants would be informed through letters and text messages, whereas the results would also be available at www.mora.gov.pk and www.hajjinfo.org.
Majority of the applications i.e. 1,55,814 were received from Punjab, 72,934 from Sindh, 69, 789 from Khyber Pakhtunkhwa, 6116 from Balochistan , 6000 from FATA, 2622 from Azad Kashmir, 10,033 from Islamabad and 5084 from Gilgit-Baltistan.
Earlier, the minister while announcing approval of the Hajj Policy 2017 by the federal cabinet said that the previous quota of Hajj has been restored whereas 179,210 pilgrims are expected to be divided in a 60/40 ratio between the government and private Hajj operators.
Muhammad Yousaf clarified that no person would be sent on the pilgrimage free-of-cost. He also said applicants who have performed Hajj during the last seven years will not be eligible to apply this year under the government scheme.
Likewise, for private Hajj schemes, the limit is restricted to the last five years.
---
HEALTH SERVICES FOR PILGRIMS
---
Ministry of Religious Affairs and Interfaith Harmony will make necessary arrangements to provide health services and take proper care of intending pilgrims this year.
According to APP, the ministry will depute medical staff and assistants who will guide the pilgrims through the rituals of the Hajj. Based upon the experience gained in Hajj 2016, Standard Operating Procedures (SOPs) and job description for each category of welfare service and activity will be notified by the Ministry in consultation with all stakeholders to ensure responsibility and accountability.
The 540 members of medical staff will be deputed in Saudi Arabia on basis of laid down criteria. One doctor along with two paramedics will be sent for 1000 pilgrims. The medical officers and staff will be drawn from Pakistan Armed Forces and Federal and Provincial Health Services Departments.
Assistants to help out pilgrims will be nominated from Federal Ministries, Departments, Provincial Governments, Police, Civil Defense, Scouts and other public sector organizations. All categories of Welfare Staff deputed in Kingdom of Saudi Arabia would not be allowed to stay for more than 45 days with the possibility of revision of up to 60 days or more as per requirement.