General Bajwa proves himself a man of action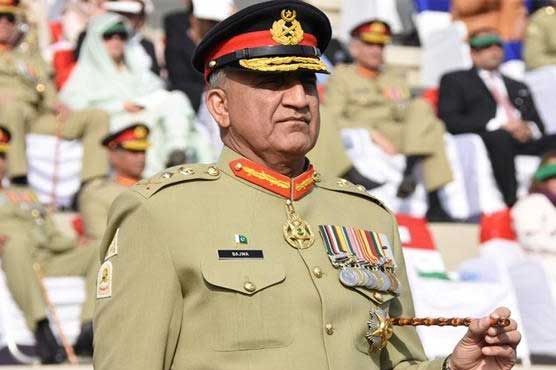 The doctrine of incumbent army chief revolves around "Pakistan first" ideology.
ISLAMABAD (Daily Dunya) - General Qamar Javed Bajwa has taken charge as army chief nearly four months ago. Since then, the vigorous and energetic military leader has not only set his preferences but has also acted upon them in their true letter and spirit. Events, thus far, have proven Bajwa "a man of action".
The doctrine of incumbent army chief revolves around "Pakistan first" ideology. Safe havens of terrorists inside Afghanistan were bombed and shelled for first time in Pakistan's history and illegal cross border movement at several entry points were barred under Bajwa's aggressive military approach.
Sources closer to army chief revealed that fencing of Pak-Afghan border was a hard decision to act upon but army had started fencing it without much hue and cry. Nawaz-led federal government has also consented to bear expenditures of fencing while army chief has made it crystal clear to Kabul and NATO's Resolute Support Mission that process will be completed at any cost owing to fact that terrorists use safe havens in Afghanistan as base to craft and carry out miscreant activities in Pakistan.
Apart from fencing, GHQ has also taken several key decisions. The military establishment has decided not to pay heed to any political or diplomatic pressure on death penalty of India's in-service naval officer and spy Kulbhushan Jadhav. Similarly, army has taken notorious Lyari gang war leader into custody under Pakistan Army Act. The army chief is well aware of political consequences of these key developments. Sources disclose that Bajwa does not believe in confrontation but responsibility of fetid atmosphere in result of any decision or incident would not lie on army chief's shoulders.
Bajwa has launched countrywide anti-terror offensive titled as Operation Radd-ul-Fassad which has two main facets. First, assault is aimed at complete uproot of terrorists and their facilitators from motherland for once and all while second is to curtail presence of weapons.
Under Operation Radd-ul-Fassad, wrath has not only been leashed on terrorists and their facilitators but several wanted and notorious criminals have also been flushed. GHQ has made it clear to political leadership that every department has to pay its part in ongoing ambush. For the first time in Pakistan's history, national day was celebrated under an idea crafted by DG ISPR titled as "Hum Sub Ka Pakistan".
Bajwa, with his very strong stance, has not only succeeded in revival of military courts but has also re-initiated process of hanging hardcore terrorists.
A humble Bajwa does not take credit of his achievements. This is evident from the fact that Bajwa has labeled ongoing population census a national duty. Similarly, successful hosting of PSL final in Lahore was another milestone added in attainment book of Bajwa. The peaceful conduction of mega event has paved way to revive international sports in terror-stricken country. It should be recalled that Bajwa had guaranteed security for event.
Military's opinion on much hyped Panamagate isunambiguous. A tweet by DG ISPR narrates that army awaits a decision based on merit and justice. In the backdrop of this tweet, one can clearly understand that army thinks country's inner security and outer security are linked with each other. Similarly, army is keen to see culprits behind Dawn Leaks under a just trial.
Amid 15 years of long anti-terror campaign, army chief has made soldiers' health and facilities as one of his foremost priority. The army chief has issued directives to practice army culture ardently and enthusiastically. These steps are being taken in context that officers, commissioned in 2001, are in incessant state of war.
Bajwa's actions clearly indicate that he believes in Jeffrey Benjamin's quote, "let your actions speak the volume".
This article was published in Roznama Dunya.