Last Updated On 13 April,2017 10:40 pm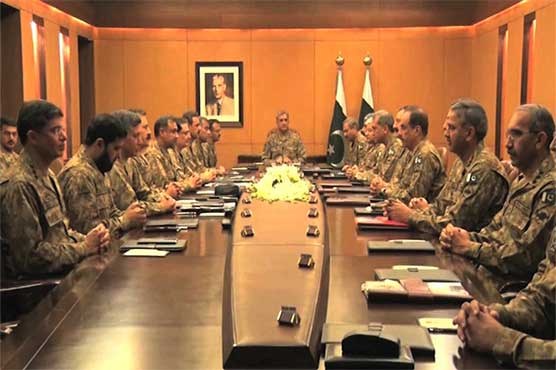 The army chief chaired a meeting of the Corps Commanders today in General Headquarters
RAWALPINDI (Dunya News) – Chief of the Army Staff, General Qamar Javed Bajwa has chaired a Corps Commanders Conference on Thursday to deliberate over issue regarding Indian spy on death row, Kulbhushan Jadhav.
Inter-Services Public Relations reported that the army chief chaired the meeting and discussed Jadhav s issue at hand.
While addressing the participants, the army chief said that there would be no compromise over enemies who are involved in anti-state activities.
Media cell of the military further reported that the meeting reviewed security situation of the country.
Jadhav was arrested in Mashakle of Balochistan last year in March and was tried for espionage in a three-month long trial by the Field General Court Martial. He was convicted of the offences and awarded death sentence.
However, Indian authorities defended the culprit and vowed to take every possible step to bring back the "son" of the nation.
It should be mentioned here that since Jadhav has been awarded the sentence, a retired army colonel has gone missing in Nepal.
Reportedly, Research and Analysis Wing of India whom Jadhav worked for is involved in the abduction to pressure the government in the issue.