Last Updated On 07 April,2017 11:29 am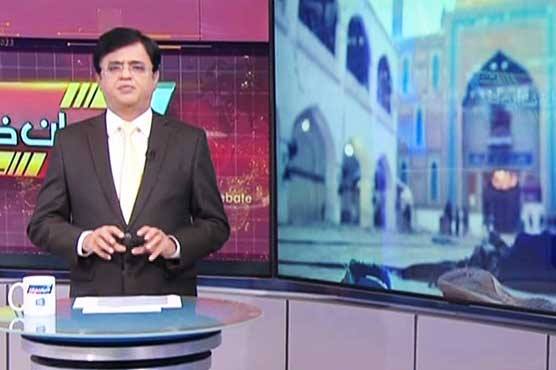 Sindh Irrigation Department approved 330 special cases in eight years.
KARACHI (Dunya News)- Influential feudal lords in Sindh are diverting water to their lands and are illegally sucking canal water through unfair usage of lift machines, revealed senior analyst and anchorperson Kamran Khan in his widely watched show Dunya Kamran Khan Kay Sath.
This illicit practice is happening under patronage of Sindh's government. As a consequent, watercourses are without water, barren lands can be witnessed across Sindh and malnutrition and stunting growth can be observed in both humans and animals. Small and medium farmers are being severely affected as they face intense water shortage.
100km away from Badin near Tando Allahyar District, Rohri canal is flowing in its full capacity despite severe shortage of river water. Likewise, Naseer Canal, which is emanating out from Rohri Canal on Odero Lal Water Headworks, is also flowing in its full capacity.
Rohri canal feeds around 2.9 million of acres of farmland or 35pc of total command area of the Sukkur barrage.
Sindh Irrigation Department's report has revealed that 330 special cases for lift machines have been approved in past eight years. Deplorably, only politicians, ministers and bureaucrat are reaping fruits from approval.
The Pakistan Peoples Party (PPP) Chairman Bilawal Bhutto-Zardari tops the list followed by Bakhtawar Bhutto Zardari, Hakim Ali Zardari, Ali Hassan Zardari, Abu Bakar Zardari, Ghulam Qadir Murree, Manzoor Wasan, Malik Asad Sikandar, Dr. Azra Fazal Pechuho, Ghulam Mustafa Memon, Husnain Mirza, serving secretary of Sindh CM Naveed Kamran Baloch among many other notable figures.
A watercourse, emanating out from Naseer canal, feeds land of PPP's key leader. The design capacity of watercourse has been widen over three feet against directions of apex court, i-e nine inch.
It should be recalled that irrigation department does not award direct outlets for sucking canal water but the said names have been authorized by Sindh Irrigation Department under guise of special cases. Resultantly, tail-enders are left with rare or no water and are not allowed to use water lift machines.
Sindh government, instead of halting water theft, is continuously lambasting and hurling allegations on Punjab over stealing its water.