No 9 squadrons of PAF, British Royal Air Force declared twins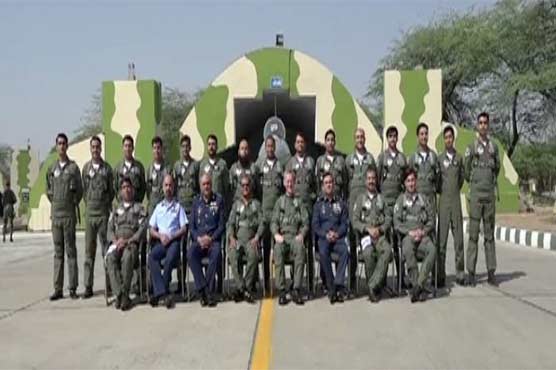 Pakistan's famed 9 Squadron declared twins with British Royal Air Force's 9 Squadron
KARACHI: (Dunya News) – No 9 squadrons of Pakistan Air Force (PAF) and British Royal Air Force have on Saturday been declared as twins. Air Chief Marshal Suhail Aman said that he did his best, in line with the traditions of his seniors, to turn PAF into the one of the best air forces of the world, reported Dunya News.
According to PAF spokesperson, this day marks a milestone for the famed 9 Squadron as it was declared twins with 9 Squadron of British Royal Air Force. An impressive ceremony was held in this regard at PAF's Mashaf Airbase which was attended by British Royal Air Force head Air Chief Marshal Sir Stephen John Hillier as chief guest.
PAF Air Chief Marshal Suhail Aman said on the occasion that the air force's subsequent chiefs did their best to make PAF one of the best air forces in the world and he also tried his best to follow in their footsteps. He added that both the 9 squadrons had a proud history.
Suhail Aman said that the partnership of these two squadrons will help them improve the cordial relations with each other and also allow them to learn from each other's experiences.
Sir Stephen Hillier said on the occasion that PAF was respected across the globe for its professional brilliance and has kept its country's flag flying high. He added that the partnership between both these squadrons will help improve their abilities and will provide a stable foundation for building on the inspiring tradition of their predecessors.