AJK PM orders timely completion of ongoing development projects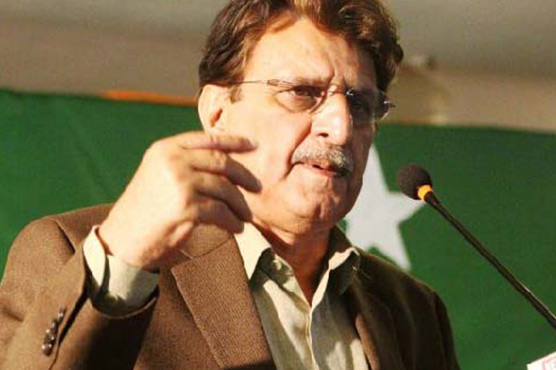 The premier chaired a high-level meeting on Wednesday
MIRPUR (APP): The Prime Minister of Azad and Jammu and Kashmir (AJK) Raja Farooq Haider Khan has directed the authorities concerned of all the nation building institutions to ensure the utilization of all allocated development funds transparently and timely completion of the projects of public welfare.
The Prime Minister expressed these views while chairing a high level meeting held late Wednesday to review pace of progress of the ongoing development projects for the financial year 2016 17.
Farooq Haider said the people could get benefits of the development projects initiated by the government if the funds earmarked for these projects were utilized well in time and in a transparent manner. He said billions of rupees were being spent on development projects in the State.
The Prime Minister said the schemes which were included in the annual development programme, would improve living standard of the people while education, health, infrastructure, agriculture, water and other sectors had been given priority by the government.
He said, funds worth billions of rupees had been earmarked for development and progress of the people of AJK and all available resources would be provided for the development in the liberated area.
He said, all departments were playing their role in the transparent spending of funds and directed the authorities concerned to complete all projects at fast track. He said, a visible change is being witnessed due to the government initiatives. The PM said delay in the projects for the provision of basic facilities to the people would not be tolerated and effective monitoring of the development projects would be continued. He said, the roads affected by floods and heavy snowfall particularly of rural areas had been restored under emergency programme.
The Prime Minister said implementation of a comprehensive reforms programme including emergency services in hospitals was being ensured to provide best medical facilities to the people.
Time had changed now and there was no room for wasting even a second and the authorities had to adopt modern and professional methods to serve the humanity, he said adding, improvement in the health sector was being ensured with transparency to provide the best health facilities to the common man.
The AJK Cabinet members including Senior Minister Ch Tariq Farooq, Ministers Raja Nisar Ahmed Khan, Dr. Najeeb Naqi, Barrister Iftikhar Gillani, Mushtaq Minhas, Syed Shaukat Shah, Ch Muhammad Saeed, Noreen Arif, Sardar Farooq Sakander, Nasir Dar, Sardar Mir Akbar, Chief Secretary
Sultan Sakandir Raja, Finance Secretary Malik Muhammad Sadique, Additional Chief Secretary Syed Asif Shah, Senior Member Board of Revenue Fayyaz Ali Abbasi and other secretaries to the government and heads of various departments attended the meeting.