Last Updated On 09 February,2017 07:25 pm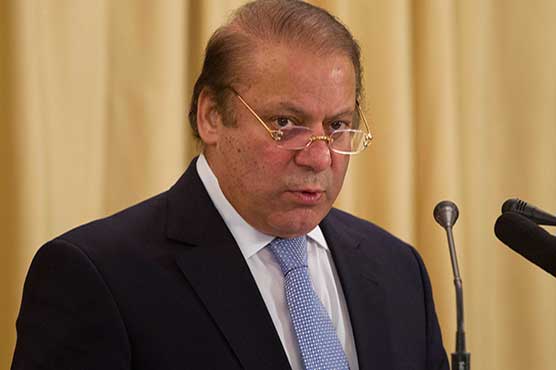 Prime Minister invited foreign investors to take benefit from the economic revival of Pakistan.
ISLAMABAD (Web Desk) - Prime Minister Nawaz Sharif has invited global entrepreneurs to invest in Pakistan and take advantage of its strategic location, rich human and material resources, political stability and attractive investment policy.

He was addressing corporate and business leaders from around the world in Islamabad today (Thursday).

The Prime Minister said Pakistan with its sixth largest population in the world, eighty million middle class and attractive investment environment is a destination no global player can miss.

He said Pakistan is set on track for sustainable growth.

The Prime Minister invited them to take benefit from the economic revival of Pakistan and enjoy the first mover's advantage.

Mian Nawaz Sharif said CPEC is a key regional initiative for connectivity and shared prosperity of nations. Apart from energy, road and rail infrastructure, industrial parks and economic zones and a state of the art Deep Sea Port at Gwadar gives CPEC the potential of changing the destiny of the people in the region and beyond.

The corridor will substantially shorten transportation distances between Africa and Middle East to Central and South Asian regions. CPEC would connect the port of Gwadar to Kashghar.

The Prime Minister said when the Government took over, the economy faced severe energy shortages, inflationary pressures, exchange rate volatility and a precarious security environment. Today, the Government has managed to stabilize the economy despite unfavourable global economic conditions.

He said from a 3% GDP growth before 2013, the country is projected to achieve 5.5% GDP growth this year. The economy is targeted to grow over 8% between 2018 and 2025 while maintaining a single digit inflation.

Prime Minister Nawaz Sharif said our reforms are multifaceted as we reduced bank interest rates, eliminated tax exemptions to provide a level playing field, strengthened tax administration, rationalized untargeted energy subsidies and widened society safety nets.

He said we are well aware that international investors need stable markets backed by clear and consistent policies. We are committed to maintaining an enabling policy framework to attract foreign direct investment.

He said the consumer market in Pakistan is growing at a very fast pace. The consumer demand of automobiles, housing and electronics is thriving and providing considerable returns to the corporate sector. The services industries particularly telecommunication, hospitality and online-retail are fast growing into attractive areas for investment.

The Prime Minister also referred to the boom in stock exchange and said PSE 100 index crossed the benchmark of fifty thousand recently.