Afghan guard shoots dead Third Secretary in Afghan Consulate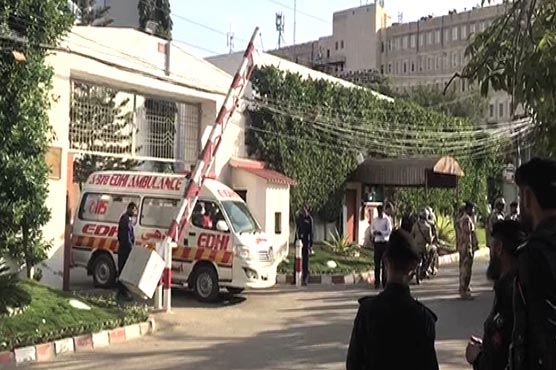 Ambassador of Afghanistan, Omar Zakhilwal has ruled out terrorism in the issue
KARACHI (Dunya News) – Afghan security guard deployed at Afghanistan Consulate in the metropolis has opened fire and killed Third Secretary named Muhammad Zaki on Monday.
Reportedly, one of the guards deployed at the consulate used his Sub-machine Gun to shoot dead the third secretary while intermittent firing was heard by locals.
According to the law enforcement agencies, Rahatullah, the accused guard was taken in custody after heavy contingents of Sindh Police and Pakistan Rangers reached the crime scene. The consulate was cordoned off and safety of all those inside at the time was ensured.
Law enforcers have obtained CCTV footages of the attack and lodged investigations.
Deputy Inspector General (DIG) of South District, Azad Khan said that personal enmity paved way for the murder while Senior Superintendent of Police of South District confirmed the killing.
Ambassador of Afghanistan, Omar Zakhilwal has ruled out terrorism in the issue.
The incident has come in at a time when several parliamentarians were planning to pay a visit to Kabul in bid to resolve outstanding issues and deflate tensions besides contributing to reconciliation process.
Members of the Pakistan-Afghanistan parliamentary body had urged Speaker of National Assembly, Ayaz Sadiq to invite his Afghanistan counterpart to Islamabad and help resolve the issues.
---
WATCH VIDEO REPORT: