Last Updated On 23 January,2017 06:42 pm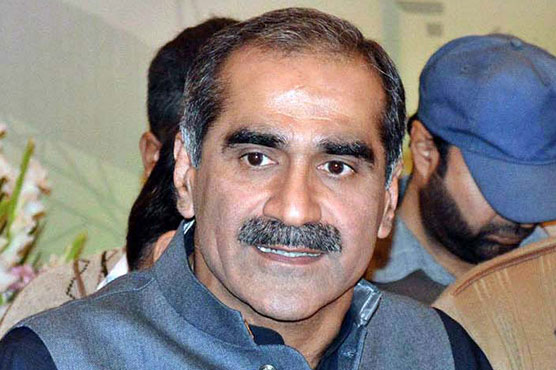 A 'mad man' comes and hides in Islamabad every single time: Saad Rafique
GUJRANWALA (Dunya News) – Federal Minister for Railways, Khawaja Saad Rafique has said on Monday that Prime Minister (PM) Nawaz Sharif does not bow his head before the powerful as he is always on the right.
While addressing a workers' convention in Gujranwala, Rafique said that institutions in Pakistan were destroyed and handed over to the government of Pakistan Muslim League-Nawaz (PML-N) in 2013. He said that numerous urban and rural areas were subjected to at least 14-hour long power outages and around 200 people were shot dead in 24 hours in Karachi in 2013.
He said that Khyber Pakhtunkhwa (KP) was crawling with Taliban and operatives of different banned outfits in at the time when Pakistan People's Party (PPP) shifted the power to PML-N while power machinery worth billions of Rupees installed in Nandipur caught rust in tenure of PPP.
He criticised Chairman of Pakistan Tehreek-e-Insaf (PTI), Imran Khan by saying that he used to call for long march to topple government of PPP during movement for free judiciary.
A 'mad man' comes and hides in Islamabad every single time, Rafique said.
The federal minister claimed that no lawmaker had as much experience over welfare of the people as Nawaz Sharif in the South Asia. He claimed that Karachi was returning to being the city of lights after a dark period.
Rafique said that Zardari-government never wanted a targeted operation in Karachi but government of PML-N did not waste anymore time. There was a time in the past when it was difficult to wave Pakistani flag in Balochistan and the situation is different now.
On the occasion, Minister of State for Information and Broadcasting, Maryam Aurangzeb said that PTI and other opposition parties could not gather 200, 300 persons and ask the premier to resign. She asserted that PTI-government could not construct a school or a bridge for the welfare of the people in KP.