Last Updated On 28 December,2016 06:21 pm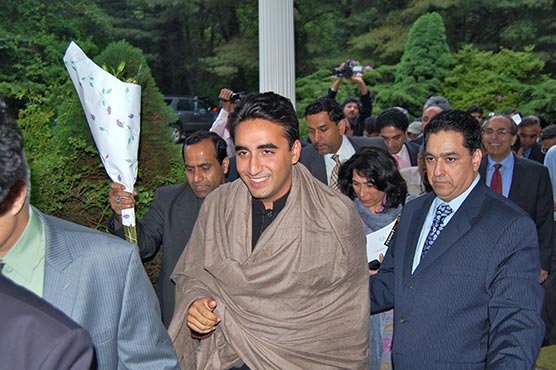 Bilawal has begun to deliberate over anti-government movement with senior members
LAHORE (Dunya News) – Chairman of Pakistan People's Party (PPP), Bilawal Bhutto Zardari has instructed senior members of the party on Wednesday to recommend a schedule for rallies across Punjab.
Reportedly, in the first phase of anti-government movement, PPP will lead protest rallies in central Punjab while in the later half, rallies will be convened in other cities.
Bilawal has begun to deliberate over the movement with PPP's senior members for its success.
Leadership of people's party has decided to approach different opposition parties to gain support. Sources privy to the party have reported that schedule and locations of rallies in central Punjab would be finalised within coming few days.
Meanwhile, Bilawal has directed the members to prepare for the coming General Elections in 2018 and organise the party.
Earlier on Tuesday, co-chairman of PPP, Asif Ali Zardari announced to contest for seat in the incumbent parliament from Nawabshah constituency. Announcement regarding Bilawal Bhutto Zardari s introduction to parliamentary politics was also made.
Bilawal is to contest for a seat in the parliament from Larkana constituency.
Bilawal s introduction to parliamentary politics and announcement of an anti-government movement has come in after Asif Ali Zardari returned from Dubai earlier this month after 18-month long self-imposed exile.
PPP had demanded the federal government to meet its four demands to avoid protests and rallies however, a formal announcement was made by chairman of the political organisation on Tuesday after the deadline expired.
The four-point charter of demands included appointment of a foreign minister, setting up of a parliamentary national security committee, approval of oppositions' bill on Panama Leaks and approval of former president Asif Zardari's resolution on China-Pakistan Economic Corridor (CPEC).
---
WATCH VIDEO REPORT: