Last Updated On 22 September,2016 12:03 pm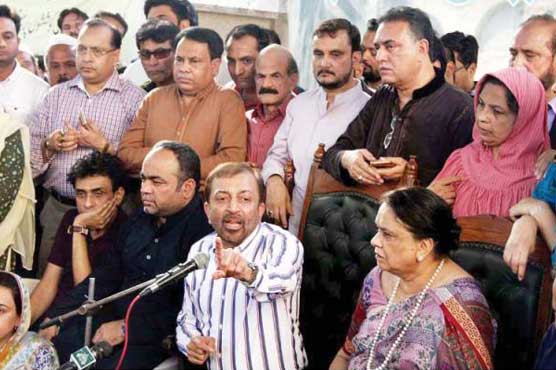 Mustafa Kamal has once offered Dr Farooq Sattar of joining PSP
KARACHI (Dunya News) – Leaders of Muttahida Qaumi Movement-Pakistan are reportedly receiving threats after a joint resolution was passed in the Sindh Assembly on Wednesday that demanded action against Altaf Hussain under Article 6 of the Constitution of Pakistan.
It was revealed in the programme, 'Dunya Kamran Khan Kay Sath' which aired on Wednesday night at 09:30pm that MQM-Pakistan members were being threatened for siding with alliance against MQM founder, Altaf and signing the joint resolution alongside Pakistan Tehreek-e-Insaf, Pakistan Muslim League-Nawaz, Muslim League-Functional and Pakistan People's Party.
---
Know more: MQM Pakistan, other parties demand treason case against Altaf
---
The anchorperson reported during the show that leadership of the Pakistan chapter of MQM has barred the members from making rhetorical comments and resorting to media ranting.
There in London, the members of the party who are siding with Altaf Hussain ever since the disagreement, responded aggressively to the adoption of the resolution.
Nadeem Nusrat stated that leaders of the party in Pakistan should resign from seats in Sindh Assembly and National Assembly and try winning the elections on their own without using credibility of the party's founder to their advantage.
It should be noted here that Nusrat has been assigned to consolidate the party after the major structural blow to it.
On the other hand, chief of Pak Sar Zameen Party, Mustafa Kamal has once again offered Dr Farooq Sattar, leader of MQM-Pakistan to quit his association with Muttahida and join PSP.
While commenting on the situation that has developed after the movement of resolution, Kamal dubbed the confusion between London and Pakistan chapters of MQM as a comedy show.
He claimed that the members of MQM Pakistan would now be subjected to mistreatment at hands of those 'standing next to them.'
Several senior members of MQM, in leadership of Dr Sattar, parted ways with Altaf Hussain last month after he criticised Pakistan and chanted anti-state slogans and allegedly triggered activities to storm houses of media houses.