Last Updated On 11 September,2016 03:10 pm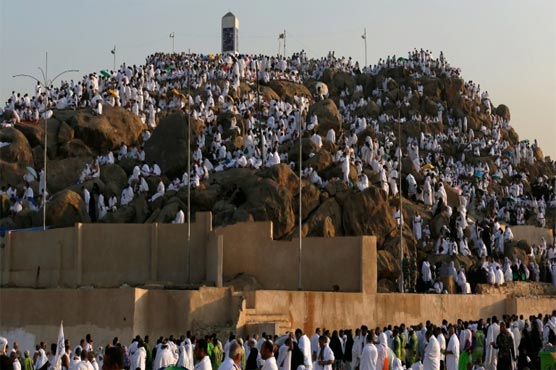 Top Saudi cleric Mufti Sheikh Abdul Aziz would not deliver the traditional sermon due to illness
MAKKAH (Dunya News / AFP) - The annual hajj pilgrimage reached its climax on Sunday when the Muslims from across the world swarmed a stoney hill in western Saudi Arabia to pray and recite from the Quran.
Main rituals of the Hajj will be done in Arafat today as the pilgrims would move towards the place after staying the night in Mina.
The top Saudi cleric Mufti Sheikh Abdul Aziz Al Sheikh will not deliver the traditional sermon for the first time in 35 years, due to illness.
The pilgrims will listen to the sermon in Masjid Nimra and will offer combined Asr and Zohar prayers. After staying whole day in Arafat, pilgrims will travel back to Mazdalfa after Maghrib prayer. The Maghrib and Isha prayers will be offered together. Whole night will be spent in Mazdalfa under open sky and will offer Fajr prayer on 10 Zill Hajj, after which they will travel back to Mina.
More than 1.8 million gathered from sunrise at the hill and a vast surrounding plain known as Mount Arafat, about 15 kilometres (nine miles) from Makkah.
Against a backdrop of distant, higher peaks, they squatted, stood, or climbed steps built into the hill while reciting ritual incantations.
From a distance, the hill appeared a snowy white, as male pilgrims wear a seamless two-piece white garment, ihram.
It symbolises a state of purity and emphasises their unity regardless of social status or nationality.
Women wear a loose dress, typically also white, but some like Soumaya, 30, of Mali are in traditional attire, in her case an orange robe.
"We feel at ease and are totally benefiting from our pilgrimage," she said, giving only one name.
"Everything is very well organised," added her friend, Khadija Bechir, 23.
Pilgrims come from every corner of the globe, but Indonesia -- the most populous Muslim nation -- has the largest quota.
Official figures issued late Saturday said the total number of pilgrims exceeds 1.8 million, with more than 1.3 million arrived from outside the kingdom.