Last Updated On 03 July,2016 10:34 pm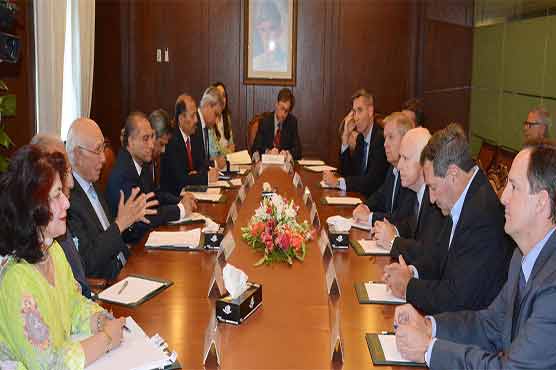 Pak-US relations will strengthen in future, assures US delegation led by Senator John McCain
ISLAMABAD (Dunya News) – Advisor on Foreign Affairs Sartaj Aziz on Sunday met with the American delegation led by Senator John McCain. Aziz informed the delegation that drone strikes on Pakistani soil were against Pakistan's sovereignty and also expressed his concerns over United States' increased defence cooperation with India, reported Dunya News.
During the meeting, it was agreed that United States and Pakistan will tackle the challenges persisting in South Asia in harmony. Sartaj Aziz emphasised upon the US delegates to maintain strategic balance in the region. McCain assured Aziz that partnership with India will have no impact on United States's ties with Pakistan.
The members belonging to the US delegation praised the success achieved by Pakistan in countering terrorism in North Waziristan during Operation Zarb-e-Azb, further stating that the ties between Pakistan and the United States were decades old and shall be strengthened in the future whilst ensuring that agreements made with New Delhi shall place no impact on the bilateral ties with Islamabad.
Prior to the meeting, McCain along with members of the American delegation paid visit to North Waziristan. The delegation also visited the areas vacated from the terrorists along with witnessing communication infrastructure and hideouts belonging to the extremists.
According to the Inter-Services Public Relations (ISPR) department, the US delegation praised the achievements made by Pakistan army in vacating North Waziristan from terrorists.