COAS directs immediate arrest of culprits involved in recent Karachi terror attacks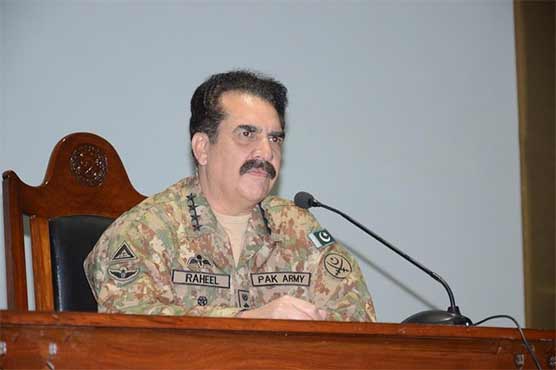 Decisions to boost Karachi Operation were likely to be taken in the meeting: Sources
KARACHI (Dunya News) – Chief of Army Staff (COAS) General Raheel Sharif on Sunday arrived at Karachi to convene corps commanders' meeting regarding Karachi Operation and overall law and order situation in Karachi at Rangers Headquarters, reported Dunya News.
Director General Military Intelligence (DGMI), Director General Inter-Services Intelligence (DG ISI) and DG Military Operations and will also attend the meeting.
Addressing the meeting, COAS said that Rangers will be assisted with every possible help to complete their mission through intelligence. He said that Pakistan army vowed to eliminate all terrorist networks without any discrimination including their facilitators and financial supporters.
The Army Chief added that Karachi Operation will continue till life gets back to normal, peace rehabilitation and operation reaching its logical end.
Inter-Services Public Relations (ISPR) stated that COAS had praised Rangers success and sacrifices made during Karachi Operation. He also said that Rangers' efforts had improved law and order situation in Karachi.
According to ISPR, during his visit to Sindh Rangers Headquarters, he directed commanders and intelligence agencies' officials to arrest the suspects involved in recent terror attacks in Karachi.
There had been an increased prestige by residents of Karachi for Rangers due to professionalism, commitment and courage regarding Karachi Operation, COAS added. On this occasion, General Raheel Sharif had an exchange of words with Rangers' personnel and praised their efforts to bring peace in the city.
DG Rangers Major General Bilal Akbar presented a detailed briefing regarding Karachi Operation. As a part of this briefing, attendees of the meeting were briefed on Sindh High Court (SHC) Chief Justice's (CJ) son Awais Ali Shah's abduction and renowned qawwal Amjad Sabri's murder.
Important conclusions regarding Karachi Operation were expected in the meeting. Sources revealed that decisions to boost Karachi Operation were likely to be taken in the meeting.