Last Updated On 20 November,2019 10:18 pm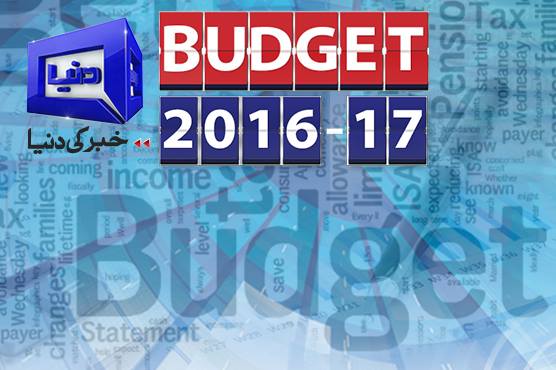 Tax collection target to be set at Rs 3621 billion, non-tax revenue target to be Rs 960 billion
LAHORE (By: Tayyab Younas) - The volume of Budget 2016-17 is going to be Rs 4394 billion while the tax collection target is going to be set at Rs 3621 billion. Moreover, non-tax revenue target is going to be Rs 960 billion, reported Dunya News.
According to the budget document obtained by Dunya News, the total volume of the budget is going to be Rs 4394 billion. The allocation for Defence is going to be Rs 860 billion, increasing the defence budget by Rs 160 billion.
Exports declined by 9.6%, now stands at $18.18 billion. Imports declined by 4.6%, now stands at $32.73 billion says Ishaq Dar.
---
Highlights from Ishaq Dar's budget speech
---
The fears that loomed large over Pakistan s economy in 2013, when we had taken over the government, are gone now. Pakistan s economy is seen to be having a great potential for growth and improvement.
60% increase has been recorded in the tax-collection during the last three years and this is a historical improvement. Trade deficit was negative in 2012-13 and is 312 billion rupees now.
Exports remained low this year in terms of revenue but the biggest reason is that the commodity prices have dropped internationally.
Interest rate is at the lowest in last several years with just a rate of 5.75%.
Per capital income has reached 1561 dollars today.
In June 2013, State Bank had just 6 billion dollars and now they have risen to 16.8 billion dollars while the commercial banks have 4.8 billion dollars, totaling to 21.6 billion dollars, the highest in Pakistan s history.
Current account deficit has remained at 1% during the last one year.
The tax-collection target of Rs 3104 billion will have been achieved by the end of June 2016.
Energy has been our government s top priority ever since we took over power. By March 2018, Pakistan will have over 10,000 mega watts of electricity more. Dasu Dam and Bhasha Dam will continue after March 2018 as well.
According to Pakistan Social and Living Measurement survey, the poverty ratio has dropped to 29.2% in 2016.
Benazir Income Support Program: The budget has been increased to Rs 115 billion in the Budget 2016-17. The number was 3.7 million in 2012-13 while it is 5.3 million now. The stipend used to be Rs 12,000 annually for each family while now it is Rs 18,000.
IT: With Universal Service Fund, telephone and IT will reach regions of Balochistan and FATA with Rs 2.43 billion, while Rs 9.52 billion will be spent on already running projects. Institutes for women have also been provided with computer labs.
Will bring fiscal deficit to 4% in Budget 2016-17 and it will be brought down to 3.8% next year. Development budget has always been reduced in order to bring stability in the budget but the current government has increased it to Rs 800 billion in Budget 2016-17. A comprehensive strategy has been devised to improve public-private sector in development projects.
Imports remained at 32.7 billion dollars during 2015-16.
Exports declined by 11%, now stands at $18.18 billion. Imports declined by 4.6%, now stands at $32.73 billion, says Ishaq Dar.
---
Development projects
---
Rs 800 billion PSDP for 2016-17 higher from Rs 700 billion in 2015-16

— Ahsan Iqbal (@betterpakistan) June 3, 2016
Water reservoirs:
Rs 32 billion being allocated for Dimer-Bhasha Dam; Rs 42 billion being allocated for Dasu Dam. 15000 Mega Watts will be added to the national grid with the help of these dams and other water projects. Funds will also be allocated for small dams in KP.
Energy projects:
Rs 380 billion being allocated for energy projects in Budget 2016-17.
Karachi Civil Nuclear Power Project, Chashma Civil Nuclear Power Project are also on the table.
Education:
Rs 79.5 billion being allocated for higher education.
Highways:
Pakistan has the ability to link the entire region through roads. Rs 188 billion have been allocated for construction of roads, bridges, which is 18% more than the previous budget. Lahore-Karachi Motorway among these projects is on the top priority for the government.
Railways:
Railways is among our top priorities. Green Line Train is Pakistan Railways great achievement. Khanpur-Lodhran, Port Bin Qasim railway lines are also being constructed. Rs 14 billion have been allocated for buying new coaches and wagons. Rs 78 billion have been allocated for Railways in this budget. Foreign and private investment is also expected next year in this fiscal year.
Salary increase:
10% increase in salaries announced for the government employees. Minimum monthly salary for labourers raised by Rs 1000 to Rs 14,000 now. 10% increase in pensions of retired officers also announced. Federal govt pensioners of age more than 85 years to get 25% increase in pension. Pensioners from former East Pakistan currently have Rs 2000 pension, it is being increased to Rs 6000 now. Pay scales from Grade 7 to 14 raised.
TDP:
Operation Zarb-e-Azb has been of great help to improve law and security situation in the country while foreign investment has also increased. This was possible only due to the sacrifices of the army.
---
Exports:
---
Pakistan is exporting much less than its potential. Government had announced many projects for this purpose in previous budget. Many of the projects have already been completed. We are annoucing new projects in this budget as well.
---
Comparison between 2015-16 and 2016-17 budgets in the fields of social sector, education, health and Millenium Development Projects.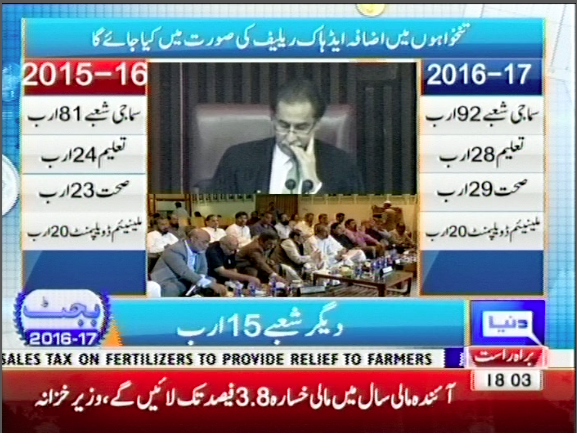 Comparison between 2015-16 and 2016-17 budgets in the fields of infrastructure, energy, communication and water projects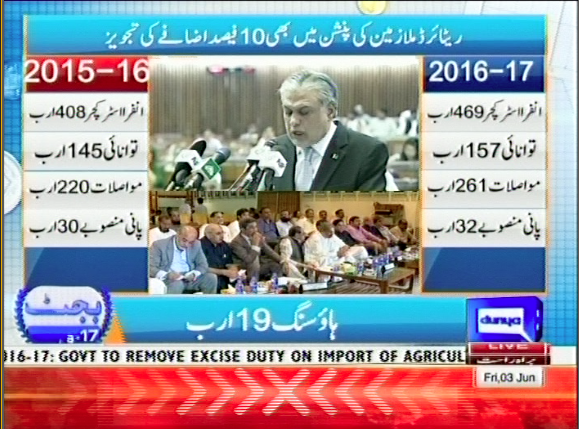 ---
Agriculture sector:
---
Fertilizer costs have been reduced during the last few months. Government reduced the cost of fertilizer bag from Rs 2050 to Rs 1800 and Rs 50 will be reduced further.
The price of urea is being set at Rs 1400 compared to Rs 2100 previously.
DAP cost will also be reduced from Rs 2800 to Rs 2500 from July 1. Federal and provincial governments will contribute equally in this reduction as well.
Government has decided to reduce the price of electricity for agriculture sector to Rs 5.33 per unit.
Custom duty also being reduced from 5% to 2%.
7% sales tax on pesticides has been abolished.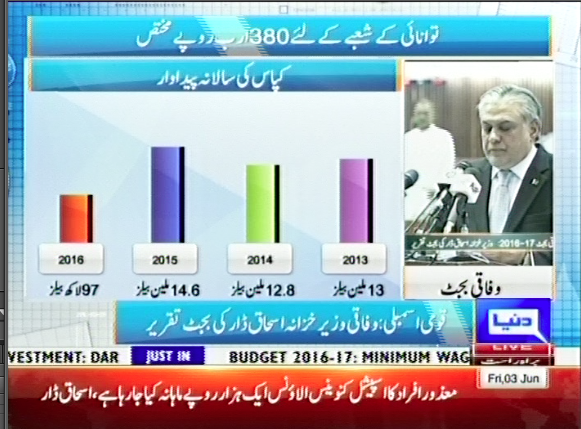 Fish farming:
Duty being reduced from 5% to 2%. The duty for crab and prawn food is 20% but this duty has been abolished this year. Custom duty on import of small fish was 10%. It is being abolished.
---
Investment:
Custom duty on machinery and raw material currently has 5% custom duty, it has been reduced to 3% now. Cottage industry turnover is Rs 5 million now for the exemption of sales tax. The bar is suggested to be set to Rs 10 million now.
Energy:
LED lights currently have 20% duty, it is being reduced to 5%. Custom duty on import of solar panels is 0% right now, the policy has been extended till June 30, 2017.
Financial sector:
PM Health Insurance Scheme has been started in cooperation of provincial and federal governments. Insurance cover is being provided to poor people and Rs 9 billion have been allocated for it. Currently the scheme is for 23 districts and it will be expanded to more districts in future. Hospitals will get low interest loans under this scheme.
---
Sector wise analysis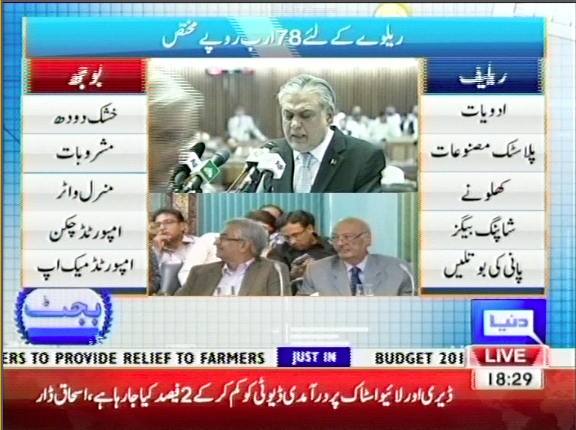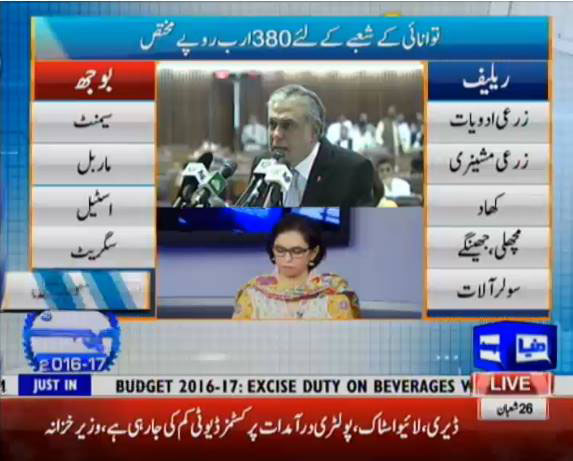 ---
Allocation for corporations, ministries, TDPs, Youth program, others: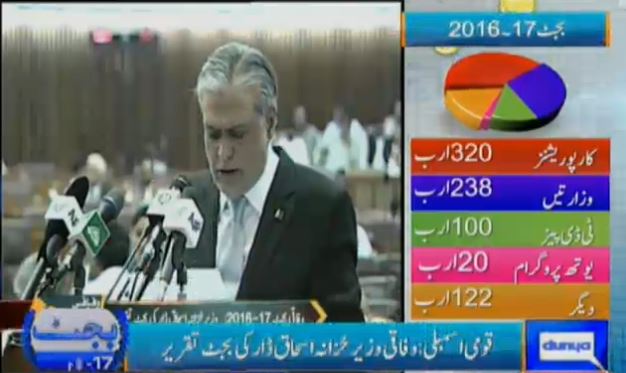 Allocation for NHA, energy, Railways and others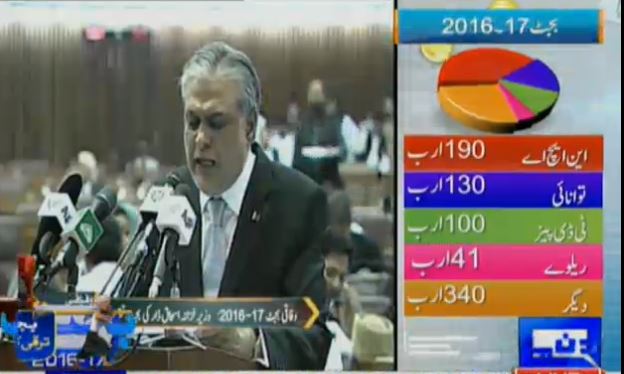 ---
Taxes imposed:
---
10% capital gain tax to be imposed on selling property within five years.
Corporate tax ratio to be fixed at 31%
Taxes to be imposed on showing foreign TV dramas and serials in Pakistan.
Super Tax to remain intact for another year.
Tax on each bag of cement raised to Rs 50 from Rs 25.
Customs duty on import of eggs, chicken raised from 6% to 11%.
Customs duty of frozen fish raised to 20%.
Customs duty on dry milk raised to increased by 45%.
10% customs duty on car tyres abolished.
Duty on almonds import raised from 10% to 20%.
---
Reactions on budget:
---
Faisalabad Chamber of Commerce and Industries Chairman says that the government has helped the businessmen a bit on some issues. He appreciated the government s allocation of budget for higher education.
Jamaat Islami chief rejects the budget, says the only thing cheap in the country today is death after this budget. He added that increasing the minimum wage by Rs 1000 was boasted off as if the government was doing a great favour to the nation.
Karachi Chamber of Commerce leader Siraj Qasim Teli says it was a budget for the agriculturists and there was nothing good in it for the industries.
Opposition rejects Budget 2016-17. Opposition Leader in NA Khurshid Shah says the budget has nothing for the poor. Pakistan Tehreek-e-Insaf (PTI) leader Shah Mehmood Qureshi says he rejects the budget. He added that the farmers were given no support for improvement in cotton production despite the fact that it was the major reason for decline in exports last year because it was the major player in textile industry.