PTV, Parliament attack case: Imran, Qadri get one day exemption from appearance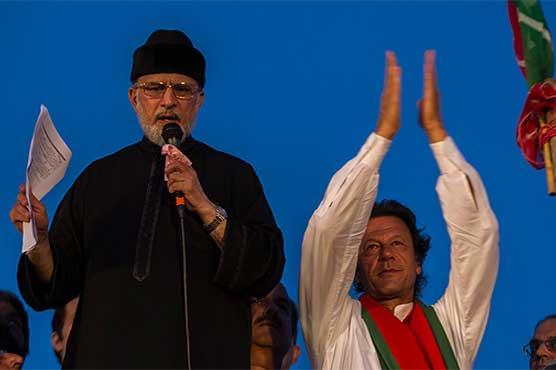 The case hearing has been adjourned till July 11.
ISLAMABAD (Web Desk) – An anti-terrorism court (ATC) in Islamabad has granted one day exemption to Pakistan Tehreek-e-Insaf (PTI) chairman Imran Khan and Pakistan Awami Tehreek (PAT) chief Tahirul Qadri in a case pertaining to attack on Pakistan Television (PTV) headquarters and the Parliament building during in August 2014, Dunya News reported.
ATC judget Syed Kausar Abbas Zaidi heard the case today (Monday).
Counsels for Imran and Qadri submitted applications seeking exemption from appearance in the court. Meanwhile, the court approved their pleas and issued notices to other accused over continuous absence.
The case hearing has been adjourned till July 11.
On Aug 31, 2014, anti-government protestors from PTI and PAT clashed with police while marching towards the Parliament and Prime Minister House.
The clash resulted in the deaths of three participants of the sit-ins. Hundreds, including demonstrators and police officials, were wounded.
The transmission of PTV News and PTV World was cut off for almost half an hour before the Pakistan Army cleared the building.