Last Updated On 30 April,2016 03:50 pm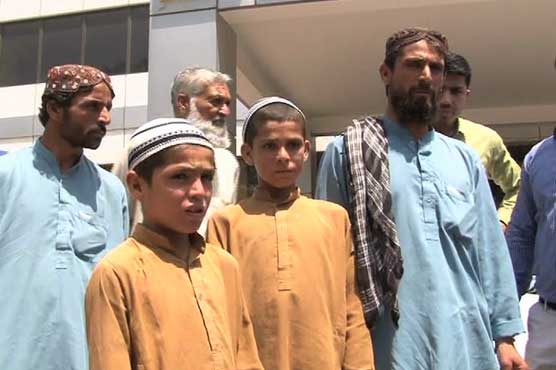 The children would be shifted to the federal capital for different tests tonight
LAHORE (Dunya News) – More than 200 medical tests of 'solar kids' have been recommended by a board of medics at Centre of Excellence in Molecular Biology, Dunya News reported Saturday.
Dunya News, that is bearing all expenses of the three children and their guardian in Lahore, shifted the patients to Centre of Excellence in Molecular Biology.
The board of medics recommended over 200 medical tests including DNA, blood and brain.
Dr Javed Akram, chief of the board stated that medics from all over the world are taking interest in the medical case. He said that such condition is new the medical science.
The children would be shifted to the federal capital for different tests tonight.
Earlier on April 27, 'solar kids' reached the provincial capital after Dunya News vowed to bear expenses of their treatment.
Government that was unaware of the situation before Dunya News highlighted the issue offered treatment of the children at Pakistan Institute of Medical Sciences (PIMS).
14-year-old Shoaib, nine-year-old Rasheed and 12-month-old Ilyas reportedly are active during the day but as soon as the sun sets, they appear to be 'half-dead'.
The children attend seminary's lectures, play cricket and behave as their normal age-fellows during the day however, after the sun sets, goosebumps begin to appear on their skins and their bodies become 'dysfunctional'.
The brothers belong to Quetta.