Last Updated On 09 April,2016 01:40 pm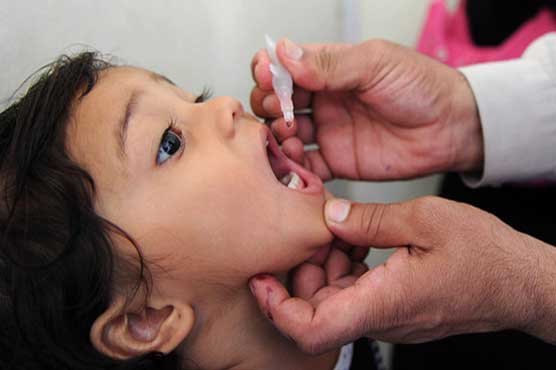 The campaign will be continued to the months of April and May.
ISLAMABAD (Web Desk) – More than 10.6 million children have been vaccinated against polio as a part of phase-3 of the Project to Assist Pakistan (UAE PAP).

UAE PAP has issued a final report of the vaccination campaign for March, showing 10,668,987 children under five including in the provinces of Khyber Pakhtunkhwa, Balochistan, and Sindh have been successfully administered polio drops.

The drive was launched in implementation of the directives of President Sheikh Khalifa bin Zayed Al Nahyan for providing humanitarian and developmental assistance to the friendly people of Pakistan, and as part of an initiative launched by Sheikh Mohamed bin Zayed Al Nahyan, Crown Prince of Abu Dhabi and Deputy Supreme Commander of the UAE Armed Forces, to eradicate polio in the world.

Under the slogan Health for All - Better Future," vaccination teams will continue to the months of April and May to inoculate second and third doses of the vaccines to the minors. The drive has reached 66 areas in Pakistan so far.

UAE vaccination campaign is being implemented in cooperation with the Pakistani leadership and with the aid of the Ministry of Health of Pakistan, the Ministries of Health in the provincial governments, the World Health Organisation, and UNICEF, and is administered under the supervision of medical staff specialists of those authorities.

Polio is a highly infectious disease that invades the nervous system and can cause irreversible paralysis in a matter of hours.

A $5.5 billion global eradication plan was launched in April with the aim of vaccinating 250 million children multiple times each year to stop the virus finding new footholds, and stepping up surveillance in more than 70 countries.

It is now endemic in only two countries, Pakistan and Afghanistan.

Pakistan's polio cases are declining, with just 54 cases of polio virus reported last year, down more than 80 percent from 2014, when the country suffered a large spike in cases.

Efforts to eliminate polio in Pakistan have been complicated in recent years, as polio workers have faced attacks by militants who say the health teams are Western spies, or that the vaccines they administer are intended to sterilise children.

In January, a suicide bomber killed at least 15 people outside a polio eradication centre in the restive western city of Quetta, with two militant groups claiming responsibility.