FWO clears 600 km landslide-hit roads in KP, Gilgit-Baltistan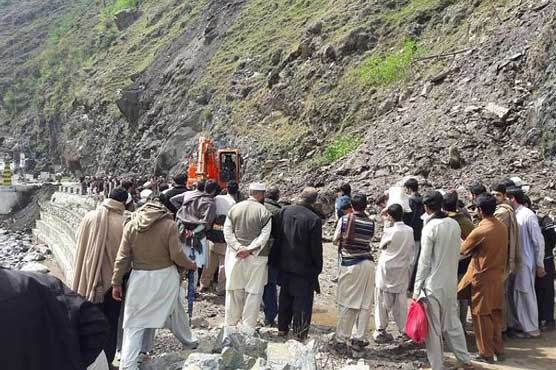 At least 33 tonne wheat has been issued by authorities for affectees in Gilgit
KOHISTAN (Dunya News) – Frontier Works Organisation (FWO) has restored 600 kilometres (Km) long different roads at land-slide hit points including Karakoram Highway and Gilgit-Baltistan, Dunya News reported Saturday.
According to Inter-Services Public Relations (ISPR), Karakoram Highway and different roads in Gilgit-Baltistan was closed at 175 points due to land-sliding on April 3. Over 100 people have lost lives in storm-related incidents in different areas, Reuters reported Wednesday.
Army rescuers have cleared as many as 108 obstructions restoring 475 kilometres long road.
At least 22 points have been cleared in Gilgit and Skardu, opening 125km long roads for traffic. Army copters distributed relief items to affectees in Chilas, Barseen and Patan.
At least 33 tonne wheat has also been issued by authorities for affectees in Gilgit.
On the other hand, as many as 23 persons could not be rescued from under the rubble in Kohistan's Kandia after six days, prompting locals to offer their funeral prayers and declare the site a graveyard.
According to Provincial Disaster Management Authority (PDMA), by April 8, 17 were killed in Shanghla, 13 in Swat, two in Bannu, six in Upper Dir, two in Chitral, Mardan, Lower Dir and Battagram each.
---

---
Death toll confirmed by Dunya News in Kohistan's Kandia is 25 including 13 women.
Local authorities have expressed possible risk of food dearth in rain and storm-hit locations.
National Disaster Management Authority had earlier dispatched a special rescue team to extend help in the recovery of the bodies.
Separately, more than 100 houses in Muzaffarabad were demolished in a mountain slide. The district government launched operation to rescue the victims.
Frontier Works Organisation stated that northern areas were hit by worst landslides and rainstorms since 1979.
FWO workers have set up temporary bridges to aid rescue operations in the affected areas.