Last Updated On 07 April,2016 03:00 pm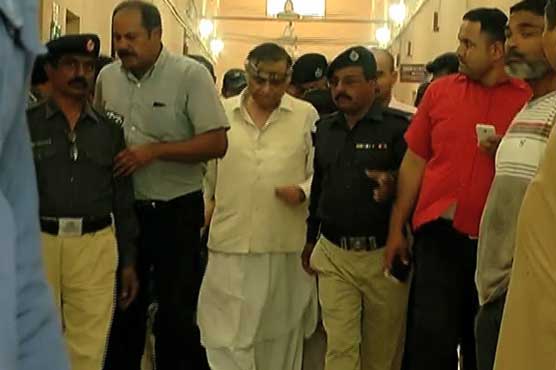 Court also adjourned hearing of the second corruption reference until April 25
KARACHI (Dunya News) – Court has deferred former petroleum minister Dr Asim Hussain's indictment in corruption reference due to late arrival, Dunya News reported Thursday.
The former federal minister has demanded registration of a money laundering case against Prime Minister (PM) Nawaz Sharif.
Jail authorities presented Dr Asim before accountability court after 10am whereas the court had adjourned the hearing at quarter to nine.
The embittered court reprimanded the authorities and ordered to ensure alleged corrupt official's presence in court in coming hearing on time.
Court also adjourned hearing of the second corruption reference until April 25.
While responding to Dr Asim's plea, the court summoned reports from Jail Superintendent and Jinnah Hospital on April 9.
While talking to the media after hearing, the corruption accused, demanded a probe against Prime Minister Nawaz Sharif in light of the recent Panama leaks.
Earlier today, law enforcers arrested Karachi Development Authority's (KDA) Director Land, Syed Athar Hussain who was declared proclaimed offender in corruption reference against Dr Asim.
The former petroleum minister is facing different corruption references in accountability court (AC) while a terror case in anti-terrorism court (ATC).
The accused has pleaded not guilty to both corruption and terror references.
One of the references alleges Dr Asim of Rs 462 billion graft while the other of Rs 17 billion. He is accused of having concealed assets, granting illegal allotments, land grabbing, misuse of authority, fraud and giving illegal contracts during his tenure in Sui Southern Gas Pipelines Limited (SSGPL).
Besides SSGPL reference, National Accountability Bureau (NAB) is pursuing money laundering case against the former federal minister.
---
Watch video: