Security forces kill eight terrorists in Gilgit-Baltistan, Khyber Agency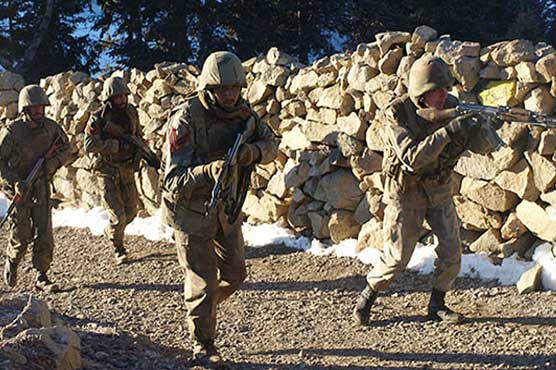 The militants were involved in attacks on security forces, passenger buses and tourists.
RAWALPINDI (Dunya News / AFP) – At least eight terrorists have been killed while two officers embraced martyrdom in rare firefights in the country's relatively peaceful northern areas today (Thursday).
On a tip off received from intelligence agencies, the security personnel launched a raid at Darel Valley in Diamar and killed as many as three terrorists whereas two officers also martyred during exchange of firing.
Inter-Services Public Relations (ISPR) sources told that the militants were involved in attacks on security forces, passenger buses and tourists.
Separately, five terrorists were also killed in a clash with forces for attacking checkpost in Khyber Agency. The corpses has been handed over to the political administration for further investigation.

The incidents came two days after military courts sentenced 13 militants to death for terrorism-related offences, including the 2013 massacre of 10 foreign mountaineers in northern Pakistan.

On the other hand, National Assembly was told today that operation against terrorism is going on across the country under National Action Plan.

Parliamentary Secretary for Interior Maryam Aurangzeb informed the House during question hour that a number of terrorists have been arrested in Punjab during the operation.
She pointed out that combing operation, Madrasa registration and action against hate speech and material are being taken throughout the country.
The Parliamentary Secretary said steps of the government to control incidents of terrorism in Karachi resulted in significant reduction in incidents of terrorism.

The military began an offensive in Khyber in October 2014, carrying out air strikes and using artillery, mortars and ground troops. The army says it has killed more than 3000 militants so far.

Overall levels of militancy-linked violence have dropped dramatically since the launch of operation.

Insurgency in Pakistan began after the US-led invasion of neighbouring Afghanistan in 2001, which led to a spillover of militants across the border and a surge in recruitment for Pakistani militant groups.