Last Updated On 15 March,2016 10:08 pm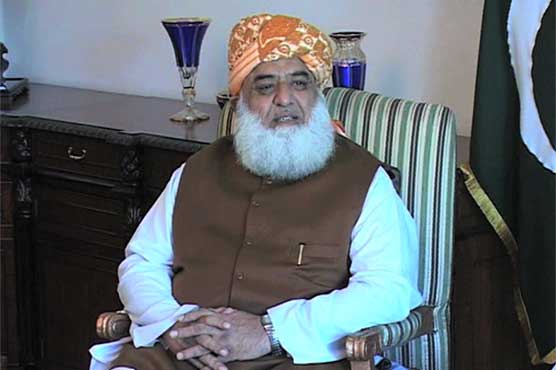 Maulana Fazlur Rehman addressed a meeting of the religious parties in Lahore.
LAHORE (Web Desk) – Jamiat Ulema-e-Islam (F) chief Maulana Fazlur Rehman on Tuesday stated that the women protection bill will destroy home affairs.
Addressing a meeting of the religious parties, Fazlur Rehman said that Prime Minister Nawaz Sharif has suggested federation-level legislation regarding protection of women.
The Prime Minister himself has expressed anger for not consulting all stakeholders on the matter, he added.
On the other hand, Jamaat-e-Islami (JI) chairman Sirajul Haq remarked that this bill is conflicting with the Constitution and the techings of Holy Quran and Sunnah.
"We are against any form of torture, be it carried out by an individual or an organization. We are against torture on women or torture on minorities but this bill has not been prepared to end 'torture.' It will destroy the family system. For example, Article 14 of the constitutions states that the dignity of man and, subject to law, the privacy of home, shall be inviolable which means that this will end the privacy of home," he said.
The meeting of religious parties comes a day after the prime minister promised to address their reservations on the bill in a meeting with Maulana Fazlur Rehman in Lahore.
"Prime Minister Nawaz Sharif heard our reservations against the Punjab Protection of Women Against Violence Act 2016. He promised to amend the law so that it doesn't contravene the teachings of the holy Quran and Sunnah," Fazlur Rehman said on Monday.
Lawmakers in Punjab last month gave unprecedented protection to female victims of violence, in a bid to stem a rising tide of gender-related abuse in a country ranked as the world's third most dangerous place for women.
The new law criminalises all forms of violence against women, whether domestic, psychological or sexual, and calls for the creation of a toll-free abuse reporting hot line and the establishment of shelters.
In 2013, more than 5,800 cases of violence against women were reported in Punjab alone, according to the Aurat Foundation, a women's rights advocacy group.
Those cases represented 74 percent of the national total that year, the latest for which data is available.