Last Updated On 24 February,2016 03:06 pm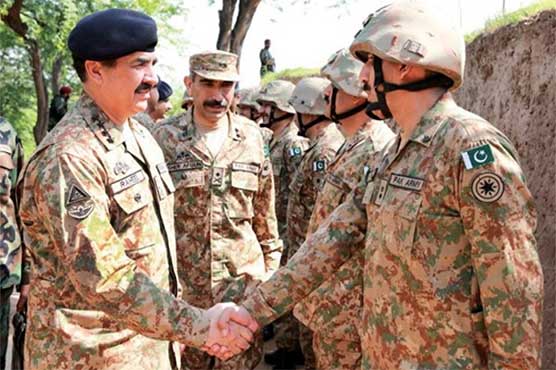 Army Chief will meet soldiers taking part in Zarb-e-Azb operation against terrorists.
RAWALPINDI (Web Desk) - Chief of Army Staff General Raheel Sharif has departed for Shawal area of North Waziristan on Wednesday morning, the army spokesperson said.
During his stay, the Army Chief will visit frontlines and meet soldiers taking part in operation Zarb-e-Azb.
#COAS leaves for Shawal Area in North Wasiristan.Will visit front lines and meet with troops participating in Op Zarb-e-Azb

— Gen Asim Bajwa (@AsimBajwaISPR) February 24, 2016
The heavily forested ravines of the Shawal Valley are dotted with Taliban hideouts and the area is a key smuggling route into neighboring Afghanistan.
General Raheel Sharif's visit comes a day after air strikes killed 15 suspected militants and destroyed their eight hideouts in Datta Khel area of North Waziristan.
The mountainous region along the Afghan border used to be a key Taliban stronghold, with insurgents controlling all the major urban centers. But in June 2014, the government launched a massive military operation in North Waziristan and vowed to step up its efforts in the wake of a Taliban attack on a school in December that killed some 150 people, mostly children.
Pakistan has been battling a homegrown insurgency for over a decade following the late 2001 US-led invasion of Afghanistan.
Officials say more than 3,000 militants have been killed since the launch of the latest offensive.