Last Updated On 12 February,2016 03:40 am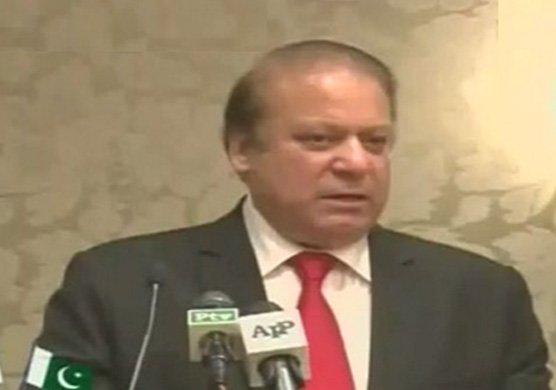 PM addressed the Pakistani community, says wanted to promote trade and investment with Qatar
DOHA (Dunya News) - Prime Minister Nawaz Sharif has addressed the Pakistani community in Qatar on Thursday in which he has shown his desire to increase trade and investment relations with Qatar, reported Dunya News.
According to the details, Prime Minister Nawaz Sharif has addressed a gathering of Pakistani community in Qatar's capital, Doha. He said that Qatari leadership has acknowledged the role of Pakistani community in the progress of Qatar. He told the gathering that he was honored to hear praise for Pakistani community from the Qatari Amir.
Sharif told the gathering that his government is working on several energy projects ranging from Liquefied Natural Gas (LNG), coal, hydel, solar and wind to end energy shortage. He declared that the LNG agreement with Qatar is historic and is very vital for Pakistan, which is facing a huge gas crisis. He expressed his gratefulness for the Qatari government for providing the lowest rates of LNG for Pakistan.
The Prime Minister told the gathering that previous governments have done extreme injustice to the public. He said they are reaping the mistakes of previous governments. He said they promised before elections to bring electricity in the country and to lower its tariff. Today, he said they are going towards completing this promise.
Sharif told the gathering that today Pakistan has the highest foreign exchange reserves in the history. He said Pakistan is progressing compared to three years ago. He said that even the president of the World Bank has praised the economic performance of Pakistan.
On the security situation of Pakistan, Sharif said that today, Pakistan's security situation is better compared to three years ago. He said that his government started the Zarb-e-Azb military operation which has severely damaged terrorist networks resulting in decrease of terrorism. He expressed his government's determination to continue the operation till its logical end.
He said that they are building the Gwadar port and the world's most beautiful airport in Gwadar. He also addressed the PIA issue; said that they want to bring PIA on its foot and added the government will make PIA's quality equal to Qatar Airways.
The premier also announced that the government is going to build Lahore-Karachi motorway and a motorway from the Chinese border to Abbottabad. He said they will build an expressway, which will lead the country towards the road to progress. He said that the development projects started by his governments in the past were not completed by the preceding governments.