Boiler blast in Shorkot claims seven lives, leaves eight injured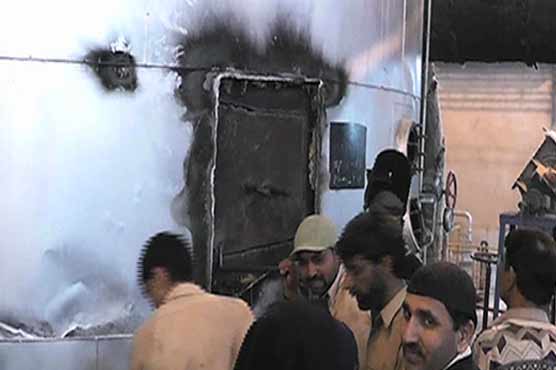 The roof of the factory caved in as a result of the explosion.
GUJRANWALA (Dunya News/AFP) - At least seven laborers were killed and eight others sustained severe injuries in a boiler blast in Sugar Mill factory in Shorkot today (Tuesday).
According to police, the roof of the factory caved in as a result of the explosion, entrapping the laborers under the rubble. As many as five workers lost their lives while eight others got injured.

Victims were immediately shifted to the nearby hospital where the doctors stated that four people are in critical condition.

The deceased have been identified as Muhammad Ishaq, Muhammad Aslam, Muhammad Hamid, Muhammad Sajjad, Muhammad Ashraf and Muhammad Sarfraz.

Taking the notice of the incident, Punjab Chief Minister Shahbaz Sharif sought report from police official and local administration and ordered to assist the affectees.

Pakistan has no independent industrial safety law and no timeframe for developing one, the government admitted this week, despite the country s grim history of accidents that have claimed hundreds of lives in recent years.
At present, there is no independent legislation on occupational safety and health issues in Pakistan," Human Resource Development Minister Pir Syed Sadaruddin Shah Rashidi told lawmakers at the National Assembly on Monday.
In November last year, 45 workers were killed and more than 100 were pulled alive from the rubble after the four-story Rajput Polyester polythene bag factory came crashing down in the eastern city of Lahore.
In 2012, at least 255 workers were killed when a fire tore through a clothing factory in Karachi, one of the deadliest industrial accidents in Pakistani history.
Before its devastating fire, the Ali Enterprises factory was given a safety certificate, but the document was fake, issued by a company suspected of fraudulently "inspecting" around 100 Pakistani factories.
Pakistan won the prized "GSP+" status in 2013 after which, Pakistan s exports to EU increased from $6.21 billion in 2013 to $7.54 billion in 2014, and increase of 21 percent, according to commerce ministry statistics.
After the Karachi fire, the European Parliament told big brands to re-examine their supply chains in Pakistan and demanded the creation of a new effective and independent system to monitor factories.