Last Updated On 08 January,2016 About 6 years ago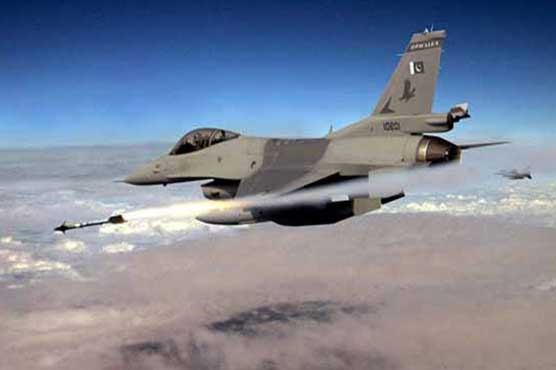 Air strike killed 25 terrorists in North Waziristan as operation Zarb-e-Azb continues successfully
RAWALPINDI (Dunya News) – Air strike killed 25 terrorists on Friday in North Waziristan as operation Zarb-e-Azb continues successfully, reported Dunya News.
According to the details, air strike by Pakistan Air Force (PAF) killed 25 terrorists in Datta Khel area of North Waziristan that is around 35 kilometers away from the capital city of North Waziristan, Miran Shah. The attack was carried away by jet fighters of PAF on the hide outs of terrorists in Mizer Madakhel area that destroyed five hideouts.
Also read: North Waziristan: PAF airstrikes kill 22 terrorists
Pakistan Air Force (PAF) jets struck in Shawal area of North Wazirisitan on Saturday, killing 22 terrorists. Various hideouts of the terrorists were destroyed during the strikes as well, reported Dunya News.
According to Inter Services Public Relations (ISPR), Operation Zarb-e-Azb is continuing its spree of success in North Waziristan as 22 terrorists were killed during strikes by PAF jets. Many terrorist hideouts were also destroyed during the strikes.