Army Chief meets with Anthony Blinken, exchanges views on regional security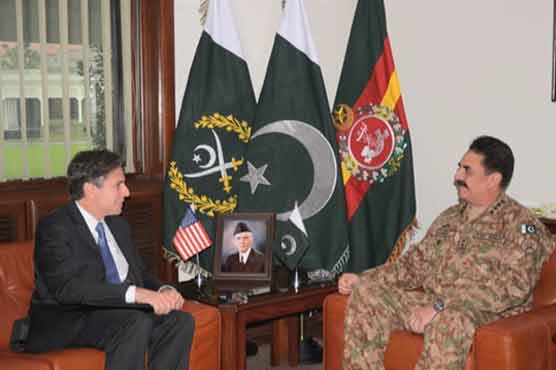 US Deputy Secretary of State appreciated efforts of Pakistan Army for peace and stability in region
RAWALPINDI (Dunya News) – Army Chief General Raheel Sharif met with American Deputy Foreign Secretary Anthony Blinken on Thursday. General Raheel Sharif and Anthony Blinken stressed for resumption of peace dialogues in Afghanistan, reported Dunya News.
According to Inter Services Public Relations (ISPR), General Raheel met with Anthony Blinken at General Headquartes (GHQ) in Rawalpindi. During the meeting, views on the security situation in the region and war against terrorism were discussed. General Sharif and Anthony Blinken stressed on resumption of reconciliation process for peace in Afghanistan.
US Deputy Secretary of State appreciated the efforts of Pakistan Army for peace and stability in the region while praising Pakistan Army s sacrifices in war against terrorism.