Roads bring people closer and connect hearts: Nawaz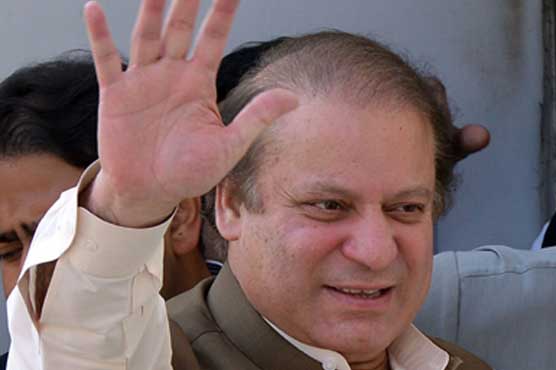 Mir Ghazanfar Ali Khan has taken oath as the fifth Governor of Gilit-Baltistan
GILGIT-BALTISTAN (Dunya News) – Prime Minister (PM) Nawaz Sharif on Tuesday has said that the government has a vision of strengthened democracy in Gilgit-Baltistan.
Mir Ghzanfar Ali Khan has taken oath as Governor of Gilit-Baltistan today. Nawaz talked extensively about Gilgit-Baltistan in his speech at the oath taking ceremony.
The PM said that the government is aware of the bundle of issues that Gilgit locals cannot seem to deal with single handedly. Nawaz said that distances among hearts of the people are cut when roads are able to provide easy journeys.
He said that Skardu-Gilgit highway would cost around Rs 50 billion.
He wished the previous governments had taken the issues of Gilgit-Baltistan locals in account and taken necessary steps. The PM announced that a special committee has been formed to get in touch with the locals and dig out the problems of the grassroots.
The premier said that reforms committee is hoped to work hard in Gilgit-Baltistan and guide the government where funds should be spent.
Nawaz said that Raikot and Havelian would be connected with a smooth road. Lowari project, a tunnel road that connects Dir to Chitral Valley, Nawaz said would get completed in 2016.
The PM said that the government spent at least Rs 27 billion to connect Khunjerab with Gilgit. Nawaz aslo visited quake affectees during his GB visit and distributed financial assistance cheques among the needy.
It should be mentioned here that Mir Ghazanfar Ali is the eldest son of Hunza Valley's last independent ruler named Mir Muhammad Jamal Khan.
The oath was administered by the Chief Judge of the Supreme Appellate Court of Gilgit-Baltistan, Dr Rana Shamim. The ceremony was attended by Gilgit-Baltistan Chief Minister (CM) Hafiz Hafeezur Rehman, several federal ministers among other dignitaries.
Later on while addressing the quake affectees, Nawaz said that the government is utilizing all resources available to better communication infrastructure and other development projects. The PM said that Skardu-Gilgit Express would be a part of China-Pakistan Economic Corridor (CPEC).
He also said that GB should have a jet service and thus airport would be constructed there. The premier said that Pakistan Muslim League-Nawaz (PML-N) government does not want to develop urban areas but far flung areas also.