Last Updated On 08 November,2015 08:56 pm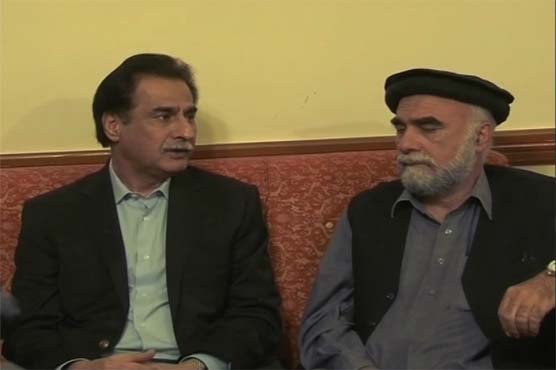 Ayaz Sadiq says FATA members didn't ask for ministry, chairmanship but the support for FATA bill
ISLAMABAD: (Dunya News) – Federally Administered Tribal Areas (FATA) member of National Assembly GG Jamal has on Sunday withdrawn from from the Speaker election in National Assembly to be held on Monday. Pakistan Muslim League – Nawaz (PML-N) candidate for the seat Sardar Ayaz Sadiq told that the FATA members didn't ask for chairmanship or ministries but demanded support for the bill for FATA's rights, reported Dunya News.
According to details, Ayaz Sadiq has started to gather support for his election. Immediately after submitting his nomination papers for the election, Ayaz Sadiq went to GG Jamal's home to see him. Zahid Hamid, Haji Shah Gul Afridi, Bismillah Khan and Sajid Turi were also present during the meeting.
During the meeting, FATA members demanded support for political reforms in FATA in exchange of their withdrawal from the election and also handed their demands to Sardar Ayaz Sadiq in writing. Ayaz Sadiq assured them of conveying their message to the government.
Talking to media after the meeting, Ayaz Sadiq said that FATA members didn't demand any chairmanship or ministry but the support for FATA reforms bill. "We'll try to get the people of FATA their rights. GG Jamal didn't link even the withdrawal from the election with the support for FATA reforms bill", he said. He told that FATA members will consult with each other and inform of their decision tonight at dinner.
Haji Shah Gul Afridi said on this occasion that the FATA members didn't table any political demands. "We want the Speaker to be uncontroversial and that is why we didn't put forward any personal agenda. We fielded the candidate only to get our demand accepted", said Afridi.
Afridi said that Ayaz Sadiq has assured the FATA members that Zahid Hamid will discuss the bill with Prime Minister Nawaz Sharif. "We hope that the people of FATA will enjoy the same rights as the other citizens of Pakistan", he said.