Last Updated On 22 October,2015 About 6 years ago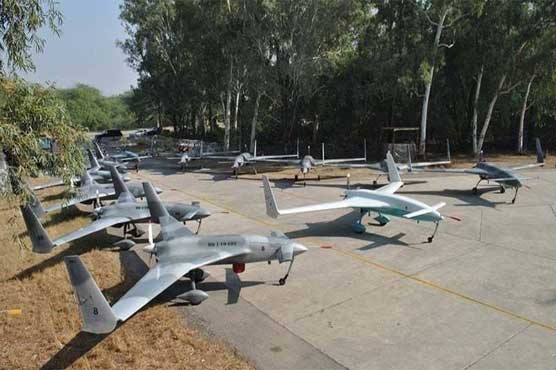 This is the first attack of the Burraq drone in dark and has been successfully
RAWALPINDI (Dunya News/AFP) – Various successful strikes by Pakistan-made drone Burraq took down several terrorists in North Waziristan on Thursday while also destroying various hideouts, Dunya News reported.
According to Inter Services Public Relations (ISPR), the Burraq drones targeted terrorists' hideouts in North Waziristan killing various terrorists in the process.
The security sources said that this is the first attack of the drone in dark and has been successfully. Only a hand few of countries have the drones with the ability to strike in dark.
---
Also Read: Airstrikes kill 21 suspected militants in Tirah Valley, Rajgal
---
Pakistan Air Force (PAF) jets killed at least 21 militants in the Khyber tribal region on Wednesday night, an army statement said.
The airstrikes in Tirah Valley and Rajgal area of Khyber Agency destroyed several militant hideouts.
The operation in Tirah aims to build on the army s offensive against strongholds of Tehreek-e-Taliban Pakistan (TTP) and other militant groups in nearby North Waziristan that began in June last year.
Tirah's geography makes it an almost perfect hideout. Rather than a single valley, it is a network of peaks and vales covering an area of 1500-1800 square kilometres (600-700 square miles) at altitudes of up to 2,500 metres (8,000 feet).
The valleys are steep-sided and covered to a large extent with dense woodland. There are no roads in the area, with locals largely relying on mules and horses for transport.
The Taliban have been launching attacks for more than a decade in a bid to overthrow the government. Thousands have been killed.
Pak Army has stepped up anti-terrorist efforts after the Taliban attacked a school in December in the northwestern city of Peshawar, killing 150 people — mostly children.