10 more death row convicts hanged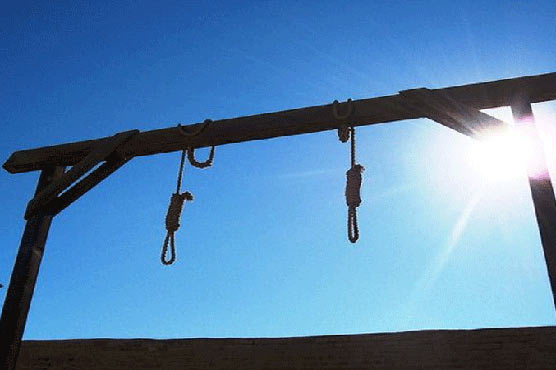 At least 10 death row prisoners were executed in different jails of Punjab on Tuesday morning.
LAHORE (Dunya News) - At least ten death row convicts were sent to the gallows on early Tuesday morning in different jails of Punjab, Dunya News reported.

According to details, death row prisoner Muhammad Farooq was hanged in District Jail Sargodha. Farooq had killed his rival over an old enmity in 2003.
Two murderers were hanged in Kot Lakhpat Jail Lahore. Death row prisoner Khalil had killed a man in 2003 while prisoner Nadeem had killed a man in Shadbagh area of Lahore in 1999.

Three death row convicts were executed in District Jail Attock. According to details, prisoner Bashir had killed Imran Beg over a family dispute in 1998. Double murder convict Amjad Ali was hanged for murdering his father-in-law and mother-in-law while death row convict Aleeq Shah was exrcuted for killing two people in 2002.

Murderer of six people was hanged in New Central Jail Bahawalpur. Death row convict Mustafa was executed for killed six people, included his wife, in 2005.

Another death row prisoner was hanged in the District Jail Kasur. Prisoner Khalil Ahmad was hanged for murdering a college student in 2002.

Two more death row convicts were hanged in the Central Jail Faisalabad. Prisoner Saeed was sent to the gallows for killing a man in 1999 while death row convict has killed a man named Shaukat in 1999.

Prime Minister Nawaz Sharif lifted the moratorium on the death penalty on December 17, 2014, a day after Taliban gunmen attacked a school and killed 134 students and 19 adults. The killings put pressure the government to do more to tackle the insurgency. Since then more than 250 death row prisoners, including terrorists and murderers have been hanged in various jails of the country.