India to release more water in River Sutlej in next 48 hours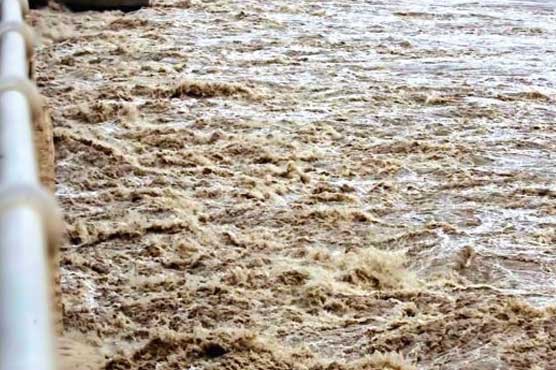 Water level in River Sutlej has increased to 15 ft.
KASUR (Web Desk) – Water level in River Sutlej is continuously rising and Indian authorities have notified Pakistan that they will release more water in the river in next 48 hours, Dunya News reported.
Earlier, Indian authorities opened three floodgates towards Pakistan near Ferozpur Headworks, due to which water level in River Sutlej has increased to 15 ft whereas outflow is 10543 cusecs.
Water level in River Sutlej near Kothi Fateh Muhammad has been recorded at 8 ft and 5 ft at Talwar Post whereas village Bhakiwand has been inundated in 1.5 ft to 2 ft water.
On the other hand, heavy flood torrents have devastated several villages in Sindh while red alert has been issued in different areas.
At this moment, a flood torrent of 450,000 cusecs is passing through Ghazi Ghat. People have been evacuated from dozens of villages due to flood threat.
Relief and rescue operations are in full swing in the flood hit Katcha areas of Ghotki, Kashmor, Larkana, Sukkur and Khairpur in Sindh.
Separately, more areas in Muzaffargarh, Jatoi, Dera Ghazi Khan and Sadiqabad have been inundated and road link has been disconnected with other areas.
There is flooding in Rod-Kohi nullahs near Koh-e-Suleiman in Rajanpur.
Relief and rescue operations are underway in the flood hit areas across the country. Civil administration and army contingents are actively participating in these operations.
Punjab Chief Minister Muhammad Shahbaz Sharif has directed the Provincial Cabinet committee on Flood to take all out measures to save the lives and properties of low-lying areas along the rivers.
He said sufficient stock of necessary medicines should be available in the medical camps and additional boats be sent to the affected villages of South Punjab.
Member Disaster Risk Reduction of National Disaster Management Authority Ahmad Kamal says so far one hundred and fifty six thousand people have been shifted to safer places from flood affected areas.
He said besides shelter, the affected people have been provided 20,000 tons foodstuff.