Sit-ins were not for rigging but for resignation of Prime Minister: Javed Hashmi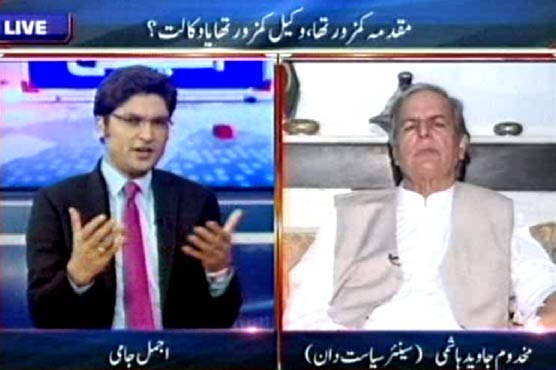 He called the sit-ins a black spot in history of Pakistan
(Web Desk) – Former Pakistan Tehreek-e-Insaf (PTI) leader Javed Hashmi said on Friday that sit-in were not organized for the purpose of protesting against the rigging but rather for obtaining the resignation of Prime Minister Nawaz Sharif, reported Dunya News.
Talking to Ajmal Jami in Dunya News special transmission, he said that the sit-in episode was the walking example of how political elements worked in Pakistan.
He called the sit-ins a black spot in history of Pakistan.
When asked about as to who scripted the sit-ins, Javed Hashmi said that Imran Khan and Tahir ul Qadri were mere puppets in the greater scheme of things.
He said that both political leaders were in the situation for their own personal gains whether it was to acquire 'seat of Prime Minister' or 'revolution'.
Javed Hashmi also alleged that he had received a call from former ISI chief General Shuja Pasha when he had stepped down from the container on a certain day.
He alleged that General Shuja Pasha had said that he had visited home of PTI leader Shafqat Mehmood. Javed Hashmi said that Shafqat Mehmood was not in favour of sit-ins but afterwards he approved of the protests.
Javed Hashmi also said that Imran Khan had demanded that a guarantor be appointed for the deal during the negotiations. He said Javed Hashmi said that such a practice was condemnable as commander in chief should not be involved in politics.
He also said that Imran Khan did not listen to his close aids and the instructions 'came from somewhere else'.