PML-N emerges as largest party in GB elections with 13 seats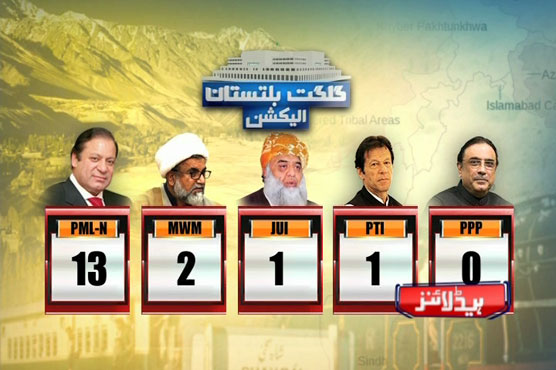 Polling was held for 24 seats of the Gilgit-Baltistan assembly.
(Web Desk) - Pakistan Muslim League-Nawaz (PML-N) has emerged as the single largest party after winning 13 seats out of 24 in Gilgit-Baltistan Legislative Assembly elections.
Other parties including Pakistan Tehreek-e-Insaf (PTI), Jamiat Ulema-e-Islam (JUI) and Islami Tehreek have won one seat each while Majlis Wahdatul Muslimeen (MWM) has secured two seats.
According to unofficial results, PML-N candidates including Jaffar Ullah won from LA-1 constituency, Hafeez-ur-Rehman from LA-2, Dr Iqbal from LA-3, Mir Ghazanfar from LA-6, Haji Fida Muhammad from LA-9, Iqbal Hassan from LA-11, Farman Ali from LA-13, Barkat Jamil from LA-14, Haider Khan from LA-17, and LA-18 Muhammad Wakeel, Ibrahim Sanai from LA-22 and Ghulam Hussain from LA-23 have won the elections.
Islami Tehreek's Muhammad Ali won LA-4 seat, Haji Shah Baig of JUI secured LA-15 while PTI's Raja Janzaib won elections from LA-21 constituency.
Two candidate of Majlis Wahdatul Muslimeen including Rizwan Ali from LA-5 and Imtiaz Haider from LA-8 won the polls.
Independent candidate Nawaz Khan Naji grabbed LA-19 seat.
This was the second time Pakistan has held polls to elect an assembly in Gilgit Baltistan since the region was given provincial status in 2009.
Tight security arrangements were put in place across Gilgit-Baltistan to ensure smooth polling and the army was deployed in some areas of the region.