NA approves bill to conduct LB polls on non-party basis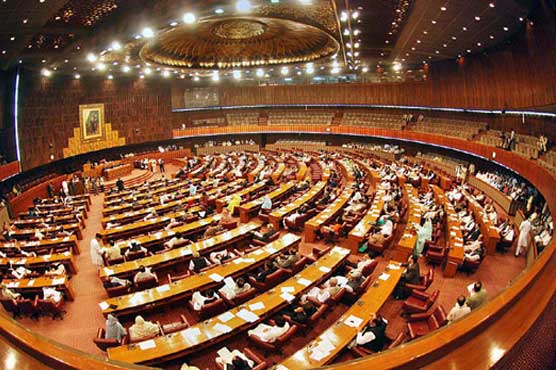 The bill tabled by Sheikh Aftab was approved by a majority
ISLAMABAD (Dunya News) – The National Assembly on Thursday approved the bill to conduct local body polls on non-party basis with a majority vote, Dunya News reported.
According to details, the NA session took place and was presided over by the Speaker Ayaz Sadiq.
Expressing views in the session, Opposition Leader Syed Khursheed Shah said that the foundation of conducting Local Body elections on non-party basis was laid by dictators and that it gave a rise to corruption.
"If you plant a seed of corruption in a nursery, it will eventually become a tree", he said.
Khursheed Shah said that councilors were paid during the government of dictators to cast votes.
"Doesn't PML-N trust its workers", he asked. "Horse-trading will stop if political parties' workers come forward".
He said local body elections should be on party-basis even in Punjab.
The Opposition Leader demanded the government not to go towards the corrupt system, adding that the local body elections on political party basis will strengthen democracy.
State Minister for Parliamentary Affairs Sheikh Aftab said that if local body elections take place on political party basis then new faces won't get a chance. He said PPP should support elections on non-party basis.
Aftab said that local body polls are plantation of democracy in the nursery, adding that they should be conducted on non-party basis.
The bill was presented by Aftab and was approved by a majority.
Meanwhile, MQM staged a walkout from the House to protest against PTI chief Imran Khan's statements against MQM chief and workers.