Dunya News remembers 'Daughter of Nation' Arfa Karim on 3rd death anniversary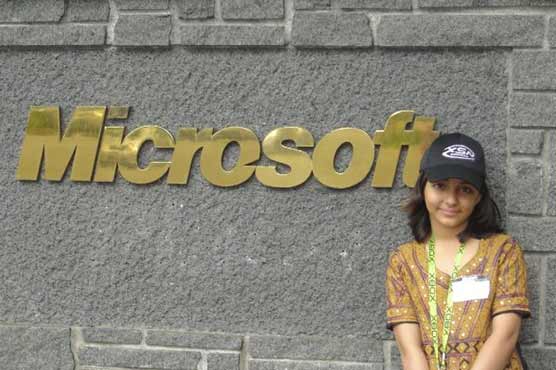 Bill Gates had invited Karim to visit Microsoft Headquarters in United States
LAHORE (Dunya News) – January 14 marks a sad day as Arfa Karim, a Microsoft Certified Professional (MCP) died of a cardiac arrest. Karim was declared the youngest MCP by Microsoft in 2004 at the age of nine and she maintained the title until 2008.
Dunya News remembers one of the brainiest minds, Arfa Karim on her third death anniversary today.
Karim was awarded the President's Pride of Performance Award, Salaam Pakistan Youth Award and Fatimah Jinnah Gold Medal along with several other accolades for becoming the then youngest MCP at the tender age of nine.
Microsoft Chief Executive Officer (CEO) and chairperson Bill Gates invited Karim to visit Microsoft Headquarters in the United States (US).
She represented Pakistan on various international platforms including Tech-Ed Developers Conference which was held in Barcelona and she was the only Pakistani among at least 5000 developers from all over the world.
People of the country are paying respects to their inspiration on the social media in connection with her third death anniversary.
14 January 2012, a day when we lost a Gem. Remembering Arfa Karim Randhawa on her 3rd death anniversary. pic.twitter.com/ZJYAIE8tlT

— Zain Ali (@ZainAlizad) January 14, 2015
3rd Death Anniversary of Arfa Karim : ) We will always miss you.. #Tearsoftoday pic.twitter.com/Rp71FHDT3f

— Aabi kosar (@Aabekosar) January 14, 2015
Remembering #ArfaKarim We Miss You Little Champ. #ArfaKarimDaughterOfNation pic.twitter.com/OPNDX4ILAp

— Umar Mir (@UmarMir17) January 14, 2015
Today 3rd Death Anniversary. We pay tribute to #ArfaKarim we will never forget you @paras_jn @Farhat_Javed @AseefaBZ pic.twitter.com/rBhdbYldfP

— mohammad fayaz ahmed (@fayazbutt) January 14, 2015
Dear Arfa Karim, u are being remembered. It's not your death anniversary it's ur third year away from us in a better place. We didn't 4get u

— The Ugly Reporter (@NeeliMirch) January 14, 2015
Dhoondho gy Gar Mulkon Mulkon.. Milny K Nahin Nayab Hain Hum..! 3rd Death Anniversary of Arfa Karim Randhawa. May her soul RIP forever

— Syed Ali Amaar (@Syedaliamaar) January 13, 2015
Rest in peace, Arfa Karim! You were a marvelous human being and Pakistan s proud daughter and a true inspiration.

— Ahmad Raffay (@AhmadRaffay) January 9, 2015
Arfa Karim -A forgotten genius: If a little girl truly deserved Nobel prize from Asia, it would have been Arfa Karim http://t.co/eUn4XpbVKf

— Masroor Bukhari (@masroorbukhari) October 22, 2014