Last Updated On 19 December,2014 About 0 seconds from now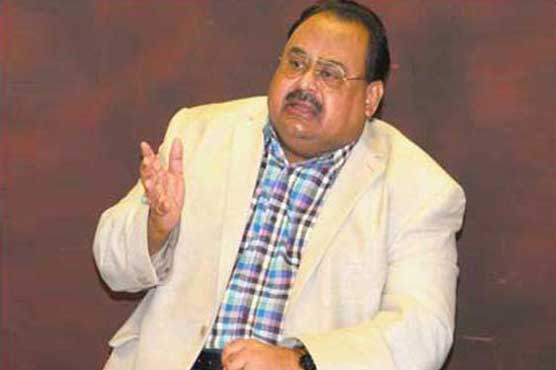 The Pakistan Army must shut down Jamia Hafsa, says MQM chief
KARACHI (Dunya News) – Muttahida Qaumi Movement (MQM) chief Altaf Hussain on Friday has urged the Pakistan Army to arrest Moulana Abdul Aziz for sympathising with Taliban after the Peshawar attack and shutting down of Jamia Hafsa (Madrassa adjacent to Lal Masjid in Islamabad).
He expressed these views while addressing the participants of the a rally in remembrance of the Peshawar attack martyrs via telephone.
He condemned the Peshawar attack saying that Taliban are responsible for the bloodshed of innocent children and members of the Army Public School faculty.
He said that today the rally is about national unity and they would talk about historic facts.
He salutes the martyrs of the Peshawar attack and that the blood of the martyrs have united the nation, he added.
MQM chief said that they would rather give up their life but to spare barbarians who are responsible for the attack on the school.
He also said that he could only imagine what the families of the martyrs would be feeling after the incident.
On the occasion, the participants raised slogans against Taliban and other banned outfits.
He stressed the end to terrorism and all the banned outfits in order to restore peace and stability in the country.
Hussain said that the Operation Zarb-e-Azb of the Pakistan Army must continue until killing of the very last terrorist.
Islam is a religion of peace and stability and the crux of which is brotherhood, Hussain added.
He posed a question to all that whether they would call Taliban who killed innocent children muslims? Adding that there is no way such barbarians are muslims.
It is a developing story and will be updated shortly