Last Updated On 24 November,2014 About 7 years ago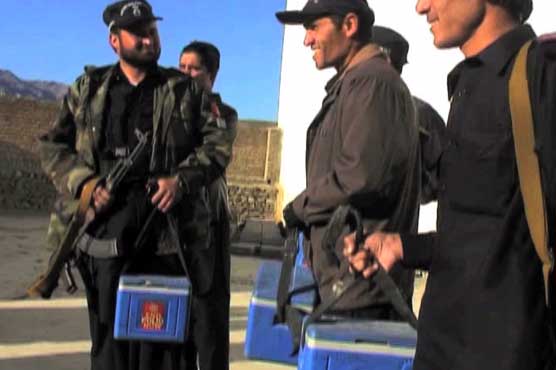 Strict security measures have been taken for the protection of the polio teams
SOUTHWAZIRISTAN (Dunya News) – A three-day anti-polio campaign on Monday has been launched in the Wazir and Mehmood areas of South Waziristan after around 30 months.
According to details, as many as 285 polio teams have been formed to give polio vaccine to around 85,000 children.
Strict security measures have been taken for the protection of the polio teams.
The campaign is supposed to cover Barmal, Shakai, Tuey Khola, Wana and Sararwagha areas.
A polio worker was injured due to firing in the Mutta Daman area after which security has been tightened.
Meanwhile, a polio campaign has been launched in as many as 74 Union Councils of Lahore.
A total of 1950 teams have been formed to vaccinate at least six lac children.
Meanwhile, as many as two new polio cases have surfaced in the country taking the affectees toll up to at least 262 in 2014.
According to the sources in National Institute of Health (NIC), a polio case has emerged in Swat after as many as five years.
According to details, a 21-month-old baby named Abu Talha in Khwaza Khela area of Swat and four-month-old Sameera from Shikarpur District of Sindh have been found affected with polio virus.
Reportedly, not a single dose of polio vaccine was given to either of the two children.
Federally Administered Tribal Areas (FATA) saw as many as 163, in Khyber Pakhtunkhwa (KPK) 55, in Sindh 27, in Punjab only 3 while the number of polio cases reported in Balochistan in 2014 are 14.