Last Updated On 16 November,2014 About 7 years ago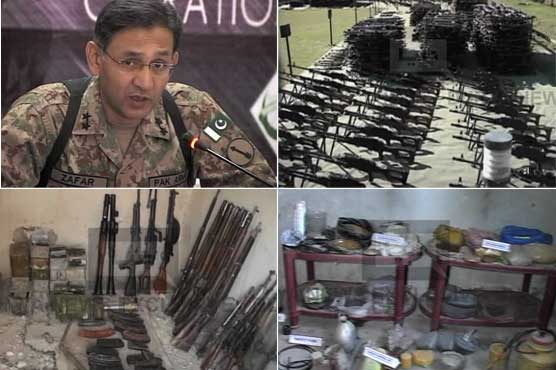 As many as 24 army officers have lost their lives while 155 have been injured, says Maj Gen Khan
NORTH WAZIRISTAN (Dunya News) – Zarb-e-Azb Operation Commander Major General Zafarullah Khan has said that 90 percent of the area has been recovered from terrorists by the Pakistan Army and that the accusations by America are false and baseless.

Major General Khan expressed these views on Saturday while talking to the media about Operation Zarb-e-Azb.
The areas that have been recovered include Mir Ali, Datta Khel, Miranshah, Boya, Spin Wam and Ghulam Khan.
He said that the search and clearance of the mines and ammunition would take time.
He also said that the operation has completed 138 days and that a large number of terrorists have been killed during the operation.
Major General Khan said that around 2.2 million ammunition and as many as 10,000 weapons of various kinds have been recovered from the area.
He said that the weaponry includes around 2,470 submachine guns (SMGs) and 273 machine guns.
He said that as many as 39 mines manufacturing factories have been destroyed.
He also said that around 23,000 Kilograms (Kgs) of explosive has been recovered from Mir Ali and 78,000 Kgs of that from Miranshah.
According to Major General Khan, as many as 1,198 terrorists have been killed and 356 injured whereas 221 terrorists have been arrested during the operation.
He said that Mir Ali was considered as the centre of extremists and that it was home to a large number of foreign extremists.
He said that factories which produced mines were also established in Mir Ali just like in Miranshah.
Major General Khan said that special attention was paid to the Uzbek terrorists in Mir Ali.
The operation commander further said that as many as 24 army officers have lost their lives while 155 have been injured during the operation.