Thar: MQM, Khidmat-e-Khalq to arrange relief camps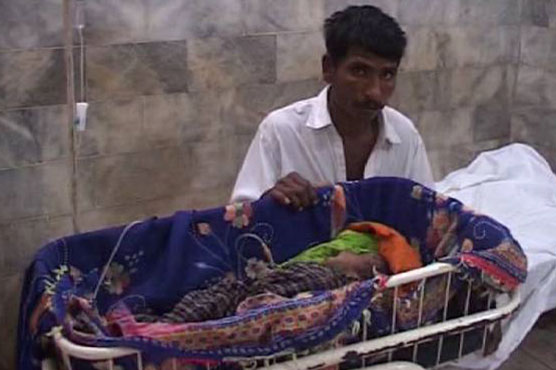 Death toll mounts 46 after engulfing a life of 2 days old infant.
THARPARKAR (Dunya News) – One more infant died at Civil Hospital Mithi today (Sunday) as deadly drought continues to swallow lives in Tharparkar.
According to details, 2 days old child of Thar died due to dearth of food rising death toll to 46 in 41 days.
On the other hand, Rabita Committee, Muttahida Qaumi Movement (MQM) along with Khidmat-e-Khalq foundation has arranged medical and relief camps at Mithi High School for the medical treatment of famine victims.
Accoding to MQM, chief MQM Altaf Hussain is expected to address people of Thar via telephone.
Earlier, famine scared humanity in Thar swallowing up another life mounting the death toll to 42.

A 3-moths old Sandeep under treatment at Mithi Civil Hospital died on Saturday due to dearth of food whereas 5 children in various areas died of starvation yesterday.

The death toll has risen to 42 in a span of 40 days whereas no relief work has been carried out as per Sindh government s announcement.