Last Updated On 07 October,2014 About 7 years ago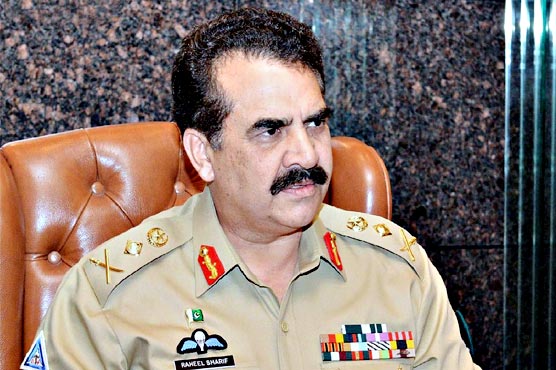 14,000 FATA residents will be recruited into Army within next 5 years, says Raheel Sharif
WANA: (Dunya News) – Chief of Army Staff (COAS) General Raheel Sharif has said that Pakistan Army will eradicate the cancer of terrorism from the country. He announced the Youth Package for Federally Administered Areas (FATA) on Monday during his visit to South and North Waziristan agencies. He informed on this occasion that 14,000 youngsters will be recruited into Army from FATA during the next five years. Praising the tribal Pakistanis, Army Chief said that sacrifices of the residents of FATA for Pakistan are commendable.
According to Director General Inter-Services Public Relations (DG ISPR), COAS Raheel Sharif offered his Eid-ul-Azha prayer in Wana. He expressed satisfaction over progress made in the Operation Zarb-e-Azb so far. Admiring the soldiers for their courage and determination, Army Chief said that Pak Army will rid the country of terrorism very soon.
Raheel Sharif also visited the Internally Displaced Persons' (IDPs) camps on this occasion. He paid rich tribute to the patriotism of the tribal people and admired their sacrifices for the nation. Army Chief expressed hope that the development projects in tribal areas will open new gates of progress for tribal people. He also announced the Youth Package for FATA on this occasion.
"1500 FATA kids will be given free education at Army Public School. Special quotas will be dedicated for the FATA students in military cadet colleges and technical institutes run by Army", announced the COAS. He also informed that arrangements are being made for employment of FATA residents abroad.