Zarb-e-Azb: Pakistan army says airstrikes kill 40 militants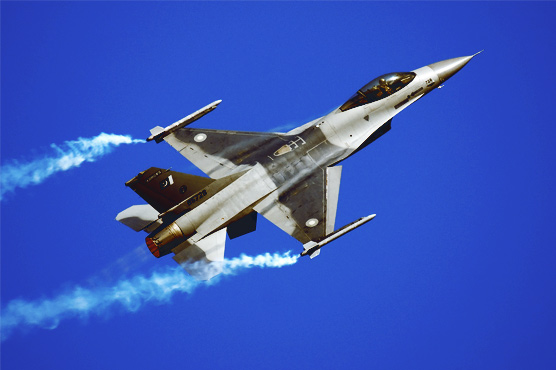 Military has killed more than 1,000 militants since the inception of the operation.
ISLAMABAD (AP/ Web Desk) - Pakistan s military says it has launched airstrikes on five militant hideouts in a troubled tribal region near the border with Afghanistan, killing 40 suspected fighters as part of a massive operation begun in June.
The military said "precise" air strikes were carried out on Wednesday in Datta Khel, a Taliban stronghold in North Waziristan, and that ammunition depots were destroyed.
The military says it has killed more than 1,000 local and foreign militants since it launched the long-awaited offensive in North Waziristan on June 15. The region has long been home to local and foreign militants who carry out attacks in Pakistan and against NATO forces in Afghanistan.
The military said it also destroyed ammunition depots, and the slain men included "foreigners." It gave no details about the identity and nationality of those killed in the strikes, but authorities in Pakistan usually use the term "foreign militants" to refer to Arabs, Uzbeks and al-Qaida men.
Since launching the operation, the military has killed more than 1,000 local and foreign militants, while it lost more than 80 soldiers. Pakistan is a key ally of the United States, but the country also is home to the Pakistani Taliban and al-Qaida, who have used North Waziristan as a base for carrying out attacks in neighboring Afghanistan for years.
The Pakistani Taliban is a loose network of local militant groups who want to overthrow the country s government in a bid to install their own harsh brand of Islamic law. They have killed thousands of civilians and security forces in their decade-old campaign of deadly bombings, shootings and other attacks. After coming into power last year Prime Minister Nawaz Sharif tried to resolve the issue through talks. But after Uzbek militants with support of Pakistani
Taliban attacked the country s main airport in the southern port city of Karachi, killing 26 people, he approved the military operation. The 10 attackers were killed in the hours-long siege that shocked Pakistanis. Since then, top militant leaders and their fighters have been on the run and the military s powerful Gen. Raheel Sharif has said the country s security forces would trace and kill the militants even in the remotest areas.
The military says it has cleared almost all major towns and villages of militants and about 80 percent of North Waziristan was in its control. The operation displaced over 800,000 residents who were currently living either with relatives or at relief camps miles away from their homes
According to the Inter-Services Public Relations (ISPR), numerous militant hideouts have been razed flat through 2,274 coordinated intelligence operations. Relief operation on the other hand is simultaneously continued in the region affected by operation Zarb-e-Azb.