Qadri leaves for Dubai, due to reach Islamabad Monday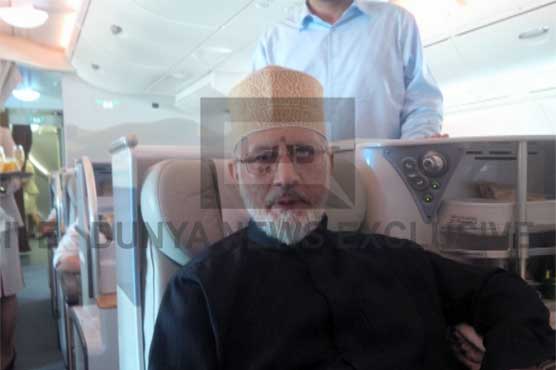 He said he wants to proceed to Lahore peacefully.
LONDON (Dunya News) – Pakistan Awami Tehreek (PAT) chief Dr Tahirul Qadri left for Dubai on Sunday evening. Qadri is due to arrive in Islamabad on Monday morning, Dunya News reported.
Talking to newsmen outside Heathrow airport, Tahirul Qadri said he wants to arrive in Pakistan and proceed to Lahore in a peaceful manner. He said the PML-N government was digging grave of its rule as it was harassing PAT workers.
Qadri said these tactics of the government cannot stop Pakistan Awami Tehreek from following its mission to bring change in the country through revolution.
The PAT chief left for Dubai at 6pm (Pakistani time) and is expected to arrive at Benazir International Airport on Monday morning
According to party sources a large number of party works would receive Dr Tahirul Qadri at the airportQadri's convoy would leave for Lahore by road.
Pakistan Awami Teheerk (PAT) claimed that its workers were being arrested in different cities.
Talking to media, Central Secretary Pakistan Awami Tehreek Khuram Nawaz Said that more than 150 PAT workers were arrested. He appealed to the workers to remain calm as the government was trying to provoke them.
On the other hand, government has imposed Section 144 of the Code of Criminal Procedure in Rawalpindi while public gathering and rallies have been banned at Benazir International Airport and adjacent area.
According to police sources, entry into the airport premises carrying banners and placards would not be allowed while those coming towards airport would be arrested.
The sources added that more than 6000 policemen would be deployed to stop the Awami Tehreek workers from going to airport.