Zarb-e-Azb: 30 terrorists killed in N. Waziristan, Khyber Agency airstrikes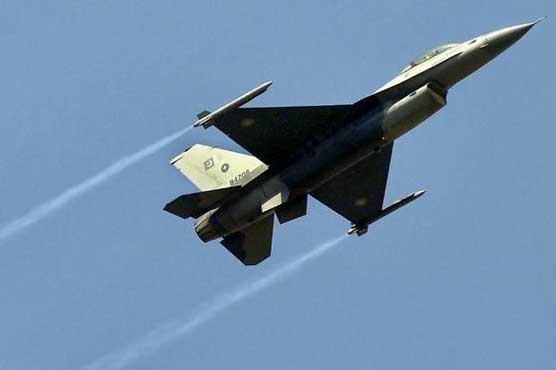 All strikes were made in areas where there is no civil population, ISPR stated.
BANNU (Web Desk) - At least 30 terrorists were killed in targeted strikes by jet aircrafts in Khyber and North Waziristan Agencies early Saturday morning, the Inter Service Public Relations reported.
According to ISPR, jet aircrafts destroyed two hideouts close to Pak- Afghan border in Khyber agency killing 10 terrorists.
Three militant hideouts were destroyed in Hassu Khel in North Waziristan Agency killing 15 terrorists.
All strikes were made in areas where there is no civil population, ISPR stated.
Earlier today, Director General Inter-Services Public Relations (ISPR) Major General Asim Bajwa said that tribal elders have announced their support to ongoing military operation in North Waziristan Agency.
"Many tribal elders from around Miranshah, Mir Ali, Datta Khel assure support to army op," DG ISPR Asim Bajwa posted the update on Twitter.
He said the tribal elders have assured that the terrorists will not be allowed to return back to their areas.
During ongoing operation, terrorists inside cordoned area are making desperate attempts to flee from area. 6 attempts were foiled on Thursday night and 3 locals who did not have any identity proof were apprehended while trying to flee from the cordon.
Another 24 Suspects who were trying to flee in the garb of IDPs were apprehended at various strangulation check posts in Mirali and Miranshah.
According to AFP, nearly 100,000 people have left North Waziristan tribal area, on the Afghan border, this week after the military launched a long-awaited assault against Taliban hideouts.