PAT's only revenge is 'revolution:' Tahirul Qadri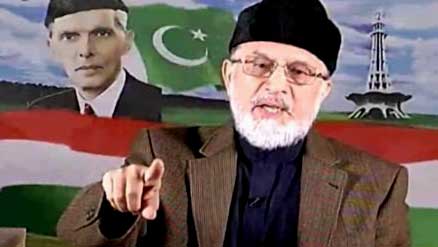 He claimed several of PAT workers are still missing.
LAHORE (Dunya News) – Pakistan Awami Tehreek (PAT) chief Dr Tahirul Qadri said on Friday that the only way to avenge Model Town tragedy is to bring revolution, adding that no example of such barbarism is seen in the country's history. He asked if what happened in Model Town is democracy, Dunya News reported.
Addressing via video link, Qadri said that PAT workers faced cruelty in the dark, claiming that bodies of several workers were disappeared.
He said several of PAT workers are still missing. PAT chief said that democracy is the name of protecting people's lives and properties.
"Is what happened in Model Town democracy?" he asked.
He asked how can there be conspiracy against democracy when there is no democracy in the country. He said that the country has never seen 'barbarism' like Model Town tragedy in its history.
He said his party's revolution is to implement all clauses of the constitution.
"Our revolution is where children of the poor could get education and employment, our revolution is elimination of poverty," he said.
"Awami Tehreek's revolution is democratic and constitutional."
He said he wants to see Pakistan as a true welfare state, adding that a movement of restoration of human rights in the country is about to start.