Terrorism is an issue of the whole country: Dr Sagheer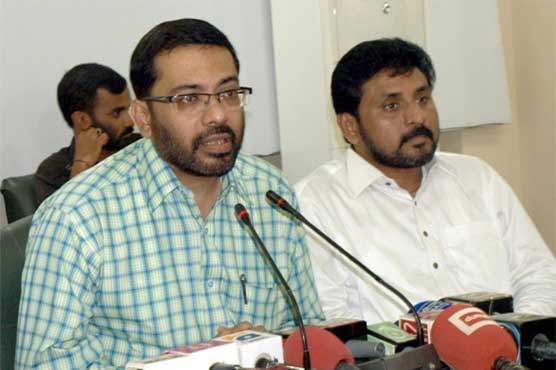 The provincial minister says nation needs unity to defeat a mindset behind terrorism.
KARACHI (Dunya News) - Muttahida Qaumi Movement (MQM) leader and provincial health minister Dr Saqheer Siddiqui has said that terrorism is an issue of the whole nation.
Talking to media after visiting the blast victims at Jinnah Hospital, Dr. Sagheer Ahmad said nation needs unity to defeat a mindset that is promoting terrorism in the country.
Dr. Seemi Jamali, Head of Emergency Department at Jinnah Hospital, said that an emergency had been declared in the hospital after the incident.
She confirmed that four people were killed in the explosion while overall 30 injured were brought to hospital.
At least four people were killed and 30 others injured in a bomb blast in Defence area of Karachi. The explosion took place outside a mosque in Delhi Colony area. Several vehicles and a nearby multi-story building were badly damaged.
According to sources, two government vehicles with the registration number GS-7558 and GS-5758 were badly damaged in the incident.
Talking to media, Sindh Information Minister Sharjeel Memon said that three government vehicles were damaged in the attack and that these vehicles were the apparent target of the attacker.
Later, bomb disposal squad has arrived at the scene to ascertain nature of the explosion. Injured people were shifted to Jinnah Hospital for treatment.
President Mamnoon Hussain, Prime Minister Nawaz Sharif, Leader of Opposition in National Assembly Syed Khurshid Shah, Sindh Information Minister Sharjeel Memon and other political figures condemned the explosion.
No one claimed responsibility, but the attack took place a day after a bomb targeting prominent police officer Shafiq Tanoli exploded in another area of Karachi, killing the officer and three others.
The slain officer, who had survived several attempts on his life, was targeted for his active campaigning against terrorists.
The blast also comes as Pakistan government pursues peace talks with the Taliban.